Here's a run-through of the most spooktacular Halloween events coming up this October. Keep checking the list below as we will be adding more family-friendly events as we dig them up!
You'll also find that many parents at local Swiss schools now get together to take the children trick or treating on Halloween night, so make sure you check with your local Association de parents d'élèves and your neighbours to see if they are organizing something in your area.
PRACTICAL TIP: if you're looking for the perfect Halloween costume for your cheeky munchkins, remember that you can check with your local toy library. Many ludothèques in Geneva and Vaud stock kids dress-up costumes that can be hired for a nominal price for up to 2-3 weeks. Not all of them offer this service but it's definitely worth checking!
HALLOWEEN EVENTS 2018
Saturday 13th October 2018: Scary Night at the Castle at the Château de Chillon in Veytaux near Montreux (VD). From 6pm to 11.30pm (last entry at 9.30pm) your little night owls can take part in this night-time adventure at one of Switzerland's most breath-taking medieval fortresses. The castle will be lit with torches and filled with music, fun activities and a ghostly light installation on the castle's walls. Entry is 18CHF per person or 45CHF for family tickets, free entry for children under 6.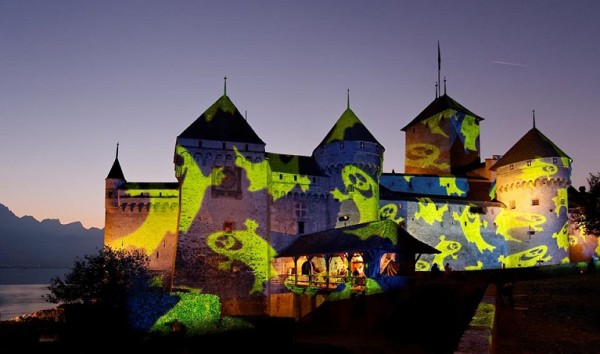 20th October 2018: Halloween workshop at Signal de Bougy, from 1pm to 3pm. Entry is 5CHF per child, suitable from age 5. Bookings must be made in advance.

20th October-5th November 2018: Halloween Party at C l'Aventure indoor play centre in Annemasse (France). There will be various Halloween activities throughout the month of October but for a proper Halloween night party make sure you are there on Wednesday 31st of October from 7.30pm until 11pm, ready to be spooked! There will be magic shows, scary face-painting, a vampires ball and much more. Click here to see our previous post about C l'Aventure.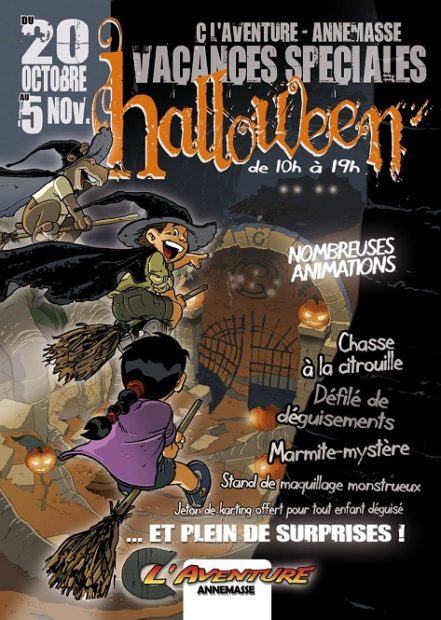 Wednesday 24th & 31st October 2018: Halloween workshops for children at Vitam'Ludic, from 2pm to 4pm. Entry to the "Grands jeux"+Halloween workshop is 15 euros per child.
Friday 26th October 2018: "Soirée déguisée Halloween" for children, without their parents at Vitam'Ludic in Neydens (France) from 7.30pm until 9.30pm.

 Places can be booked online or directly at Vitam'Parc.
27th October & 31st October 2018: Special Accrobranche Nocturne to celebrate Halloween at the Parc Aventure des Evaux in Geneva. If the weather is good, put on your scariest Halloween costume and join other monsters from 7pm to 11pm with no advance booking required. Suitable from ages 7+.
Sunday 28th October 2018: Halloween Party at the Parc Pré Vert – Signal de Bougy in Bougy-Villars (VD). The Halloween celebrations at Signal de Bougy will take place on Sunday 28th of October and will include Halloween workshops, face-painting, mini disco and a kids' parade through the park. FREE ENTRY to all activities and no advance booking necessary. The event will run from 9.30am until 5pm, click here to see the full programme.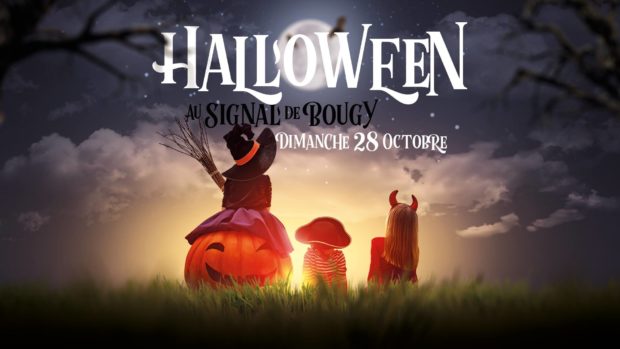 Wednesday 31st October 2018: Journée Halloween au Vitam'Ludic, from 10am to 7pm. Face-painting, scary beverages and Halloween costumes all day! Entry is included in the ticket to the "grands jeux".
Wednesday 31st October 2018: Halloween à Tortuga, great indoor party at L'île de Tortuga play centre in Vétraz-Monthoux (France). The park will be open from 9.30am to 5.30pm and then again in the evening from 7pm to 11pm with scary games, face painting, spooky dances and buffet! Places to be reserved in advance before the 25th of October.