It is one of the first things you will hear from other expats when you arrive in Geneva. They might be moaning about it, cranky and stressed from years of suffering, or declare it's the best thing that could ever happen to you and your family, claiming it gives you time for things other than "worshipping at the altar of Tesco's" (a direct quote from another expat mum).
The thing is, you see, that in Geneva "everything is shut on a Sunday". Cue sharp intake of breath. If you have just moved here from the UK, the US or other countries where there is more of a 24/7 take on life, you might be in for a culture shock.
Sundays are indeed very quiet affairs in Geneva. As a friend put it to me, "Sundays are for spending time with your family, visiting the grandparents, have long, lazy family lunches", which is a lovely thought for local families but not so much for us expats as our nearest and dearest usually live in another country.
So what's a lonely expat to do? First of all, although it is true that there aren't many choices available because most shops, restaurants etc. are closed on this day of rest, it's not entirely accurate to say that everything is closed.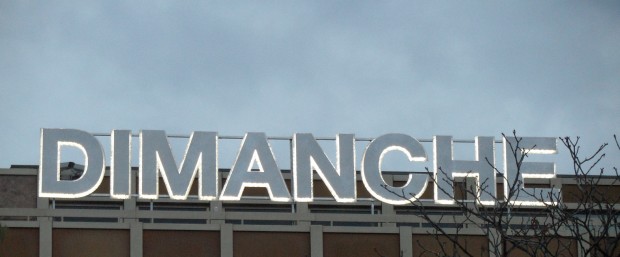 So, if you're stuck for ideas, take a look below for our winter survival guide to Sundays, lazy Sundays in Geneva, Vaud and neighbouring France…
SPORT & THE GREAT OUTDOORS
1. Go Down a Slippery Slope: once those mountains are covered in white, fluffy snow and the season begins, Swiss people usually spend their Sundays on the pistes. The extra added bonus is that – generally speaking – when there's low cloud hanging over the valley you'll find sunshine and blue skies above the cloudline (usually at around 1000 meters), so you can literally drive away from those grey, sleepy Sundays in the city. If you'd like more info about skiing with children, read our previous post and remember that you can also give sledging a try !
2. Put Your Skates On: we firmly believe that the best things in Switzerland are free, so take a look at your local ice-skating rink. Many of them are free of charge, you only pay a nominal fee to rent the skates and they're open until the end of February/March. Many patinoires have "penguins" to support your little ones so they can learn and be safe !
Here's a list of ice-skating rinks in the area:
Patinoire des Bastions, Geneva – open Tuesday to Sunday until the 23rd of February 2013.
Patinoire des Charmilles in Geneva.
Patinoire Carouge – open until the 24th of February 2013, it's closed on Mondays only (opening times here). Entry is free and they have a rich calendar of fun events "on ice", that you can find here. This year you'll also find a very cool ice bar right by the skating rink.
Patinoire de la Vigne Blanche in Bellevue, open until the 24th of February 2013, free entry.
Patinoire de Versoix, open until the 17th of February 2013, free entry.
For more ice-skating rinks in the Geneva region, click here.
There are some great ice-skating rinks in Canton Vaud as well (our family's favourite is La Patinoire de Terre Sainte in Coppet with its dazzling views over the château), so if you'd like to have a go you can find the complete list here.
If you like the idea of a family day out a bit further away, why not try ice-skating on the frozen Lac de Joux, in the spectacular setting of the Vaudois Jura ? When the Lac de Joux freezes in winter, it becomes "the largest natural ice-rink in Europe", surrounded by breathtaking views and cross-country slopes: definitely an experience the whole family will remember for years to come.
3. Make a Splash: if you're not feeling brave enough to face the bitter cold, you can take the little ones swimming at Vitam'Parc in St-Julien-en-Genevois, just across the border in France. This great indoor water park has slides, a fun water circuit, heated pools and is open from 10am to 8pm every Sunday. If you fancy the idea of a family day-out a bit further away then Aquaparc in Le Bouveret is also great fun. The Bains de Cressy in Confignon (Geneva) don't have waterslides but the water is heated to a toasty 34 degrees and there's a shallow end on one side of the pool which makes it perfect for tiny swimmers. They get bonus points for being open 9am to 8pm at the weekend.
4. Dive in or Relax: the Bains des Pâquis in Geneva are open 365 days a year for a dive in the lake, a relaxing hammam, sauna or a body massage. If you're brave enough for a dip in the freezing lake the Bains des Pâquis are open from 8am to 9.30pm on Sundays (see website for details); while body-massages on Sunday can be booked from 10am to 8pm (65CHF for 50 minutes, bookings must be made by telephone at 022 731 41 34).
5. Keep on Walking: Genève Rando organizes some great walks on Sundays, check the website for full details. Genève Escapades, in collaboration with Dimanches à pied, also arranges some interesting walks focused on discovering Geneva's history. These walks are more suitable for older children and teenagers.
FAMILY FUN
1. Kids Shows: make the most of your shopping-free Sundays and enjoy a dance or puppet show for children with your little muffins. Keep an eye on our regular "What's on this weekend" posts for detailed listings of everything going on in the area, or check what's on at Le Théâtre des Marionnettes de Genève, Le Théâtre Forum Meyrin, Le théâtre Micromegas in Ferney Voltaire (France) and Le petit théâtre in Lausanne.
2. Museums: if you actually like the idea of a consumerism-free day which is all about family then why not visit Geneva's Muséum d'histoire naturelle on route de Malagnou ? This is the most child-friendly museum in Geneva, entry is free (hurray!) and they're open on Sundays from 10am til 5pm. Our boys love running around and pointing at all the different animal dioramas, huge dinosaurs' skeletons etc. and for us parents is relaxing to know no one will complain. The MEG (Musée d'ethnographie) and the MAMCO (museum of contemporary art) in Geneva are also open on Sundays, remember to check our "What's On" posts for details of their family guided tours. Another fantastic museum for children is the Geneva Firefighters Museum, open on Sunday afternoon. In Canton Vaud, the best family-friendly options on a Sunday are: Château de Prangins, Château de Nyon, the MUDAC in Lausanne, Chillon castle near Montreaux, the Alimentarium in Vevey and the Musée Suisse du Jeu in La Tour-de-Peilz. A bit further away but absolutely worth a visit is the Creaviva Children's Museum in Bern, Paul Klee has never been so accessible ! Although not technically a museum, the Papiliorama Swiss Tropical Gardens in Kerzers (canton Fribourg) is only one hour and a half from Geneva. It's open 363 days a year and it's great fun for children of all ages: discover the beautiful exotic butterflies, spiders and other animals or make the most of their outdoor playground.
3. Indoor Playcentres: take a look at our latest post listing all the best indoor play centres in & around Geneva, Lausanne and nearby France. Please note that Jayland is temporarily closed for refurbishment from the 2nd of May 2014, check their facebook page for details of their re-opening date. Yatouland in Vernier (GE) is open from 11am to 6pm on Sundays. They have bouncy castles, trampolines, climbing frames and a separate baby playarea but have recently opted for birthday only openings so you can't pop in unless you've been invited to one of the birthday parties (shame). Recently opened, Vitam'Ludic is VitamParc's new indoor playcentre open from 10am to 8pm every Sunday. Well-equipped with slides, climbing frames and tunnels, it's guaranteed to keep your little monkeys entertained for hours. Espace Junior at the Halle 7 of Geneva's Palexpo is only open from October to January but very worth a visit with its great bouncy castles and mini bumper cars. For some great indoor playcentres in Canton Vaud try the Skatepark in Lausanne (open from midday to 8pm on Sundays) and Urba Kids in Orbe (open from 9am to 6pm on Sundays). C L'Aventure is a large new indoor playcentre that recently opened in Ville la Grand, near Annemasse (France). With plenty of climbing frames and play-areas for ages 0 to 12. Read our review here.
FOOD
1. Sunday Brunch: what can be better than enjoy a lazy and delicious Sunday brunch with the family ? If you like the idea, read our previous post for some great child-friendly options. Another option for Sunday lunch is La Buvette des Bains des Pâquis, open 365 days a year from 7am to 9.30pm. And for a sunny weekend, what about a spot of brunch in the sun?
2. Time for Crêpes & Hot Chocolate: I shouldn't be saying this, but sometimes there's nothing better than a chocolate crêpe to keep the little monsters quiet for a while. Our favourite place is the Cartier Tea-room in Versoix, which is open until 7pm on Sundays. The daily specials and homemade cakes are superb, as is the lake view from the terrace. If you're in Eaux-Vives, try Le Coup de Girafe, a fab café-brocante with plenty of panache, serving brunch on Sundays. For more delish pâtisseries in Geneva that are also open on Sunday, try Pâtisserie Mage, Wolfisberg and Gourmet Brothers in Vésenaz. Yum.
3. It's a Mountain Affair: sometimes, even if we're not in the mood for a long ski session, we like to drive to the mountains for a bit of sledging and some delicious mountain dishes like croûtes au fromage, raclette, fondue, vacherin Mont d'Or au four or tomme Vaudoise. Our family favourite is the Refuge La Trélasse in St-Cergue (300 meters from la Givrine) with its gorgeous open fireplace and delicious food. The refuge is open from November till the end of March.
4. Fondue Fever: if you're in town but still fancy a cheese fondue on Sunday, take a look at our post "Best Fondue in Town" for some good addresses. Remember that La Buvette des Bains des Pâquis is open 365 days a year from 7am to 9.30pm.
SHOPPING
1. Food Market Paradise: the Marché de Plainpalais is a foodie paradise with its wide array of Swiss and international delicacies. Just let your nose guide you from the fresh fruit and veg stalls to the cheesemonger's, churros and roast chicken vans. The food market in Plainpalais is open every Sunday from 8am to 7pm and on the first Sunday of every month you can also hunt for antique bargains at the Marché aux puces et brocante (both markets are located on the Plaine de Plainpalais).
2. When in France…on a Sunday morning, don your beret and head to one of the many French markets on the Swiss-French border (Divonne, Annecy, Douvaine, Prevessin-Moens  etc.). These amazing markets are a real feast for the eyes and tastebuds. Even in winter you can huddle around the fresh seafood stall and savour some fresh oysters, or buy bread and baguettes, cheese, fruit and more. Click here to see Linda's post and photos of the Sunday market in Divonne-les-Bains. For organic produce you can visit the Sunday marché bio in Ferney Voltaire (check the website for dates).
3. Grocery Shopping: if you are really stuck and in dire need of some supermarket shopping you can head to the small Migros at Geneva's airport (it is quite small and overcrowded on a Sunday but it's open everyday from 8am to 9pm). You can also shop at the Migros supermarket inside Vitam'Parc, open on Sunday mornings from 9am till 12.30pm. Alternatively, some French supermarkets are open from 9am to 12pm on Sunday morning, so check those nearer to you (Intermarché in St Genis and Gex, Carrefour in Ferney Voltaire, Douvaine, Thonon, Divonne-les-Bains etc.). In Geneva you'll also find a chain of organic food stores called Urban Bio open 7 days a week. They have stores in Eaux-Vives, Plainpalais, Cornavin and Jonction. Stock up on organic pantry staples & fresh produce at Botanic in St-Genis Pouilly (France), open from 9.30am to 12.30 & from 2pm to 6pm on Sundays.
4. Shopaholics in need can find solace at Schilliger's special openings in Gland. A truly gorgeous garden centre-cum-furniture & homeware shop, Schilliger does not come cheap but makes for superb browsing. Around Christmas its displays of decorations, gifts etc. are especially fabulous. Another personal favourite (and definitely more affordable) is Jardiland in Ornex – open on Sundays from 9.30am to 12.30pm and from 2pm to 6.30pm). This makes the whole family happy: Expat Husband can spend hours browsing through gardening supplies and tools, the children love the pet section and I can be found drooling in the home furnishings aisles. Botanic in St-Genis Pouilly (France) is another fab Home & Garden store, open on Sundays throughout the year. Read all about it in our previous post.