If you have children aged 0 to 3 don't miss the upcoming L'Enfance de l'Art Festival, which will be taking place in French towns of St-Julien-en-Genevois, Valleiry, Viry, Vulbens and in the Swiss commune of Plan-les-Ouates from the 19th to the 26th of February 2014.
Discover "Caban" the interactive trail across tents & igloos suitable from 3 months or the "BAL DES BÉBÉS" suitable from 1 month to 12 months and share a special moment with your little ones. The programme includes some great creative workshops and "CHANTE AVEC BÉBÉ" sessions too. How great to finally find an event tailored exactly for babies and younger audiences!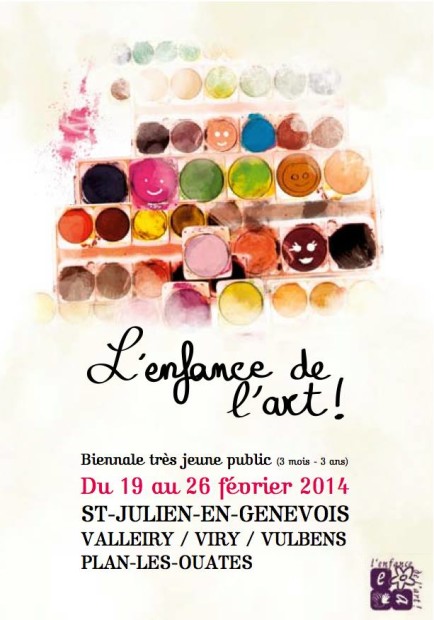 Children aged 2-3 will also be able to attend special animated movie screenings at the Cinéma Rouge & Noir in St-Julien-en-Genevois, see the Festival's programme page for full details (tickets can be purchased directly from the cinema).
But this is not all, the festival offers a "P'tit déj' parents – enfants" conducted in French by child psychologist Anne-Sophie Casal on the subject of the importance of play in children's development (Wed. 26th Feb. at the MIEF in St-Julien) as well as an ""Espace parents-enfants" where you can relax and enjoy some playtime with your little buttons (L'Arande – St-Julien). Don't miss the roundabout or the toy library space either!
You can download the Festival's calendar with the complete list of all shows, talks, exhibitions and workshops so you won't miss out on anything. Tickets start at 4 euros and can be purchased at various locations (click here for full details), but make sure you book them as soon as possible as places are limited.
L'Enfance de l'Art – Biennale très jeune public
19th-26th of February 2014
St-Julien-en-Genevois, Valleiry, Viry, Vulbens (France), Plan-les-Ouates (Switzerland)
Download the full programme and calendar.
MJC St-Julien
L'Arande, 24 Grande rue
74160 – Saint-Julien-en-Genevois
France