I have been doing some research about winter sledging in the area on behalf of my reckless boys (big & small) and I thought it might be a good idea to share some of the links I have found so far.
I will be adding new ones as I go along, and will certainly report on our personal experiences! I hope you'll find the information useful, please let us know if there's a special place you'd like to recommend.
Luge 4 Saison – Alpine Rollercoaster at Col de la Faucille in Pays de Gex (nearby France) is Europe's longest sledging track at just over 1km. It's a truly thrilling ride, as you can reach 42 km per hour and do a 540° twist – the views are great too. Open all year round from 10.30am to 6pm but it's better to ring ahead in winter as it might be closed if weather conditions are too bad. Tickets cost 6 Euros per ride or 50 Euros for 10. We tried it in the summer and my boys had a ball: from the age of 6 they can go alone, before that you take them on the sledge with you (and hold them very tight!!). Take a look at the video below for a little taster…
Luge 4 Saison – Alpine Rollercoaster
01170 La Faucille
GEX (France)
Phone : 04 50 20 91 43
E-mail : infotourisme@monts-jura.com
Tobogganing Park, Leysin (VD). How would you like to slide down the slopes on an inflatable tube? No need to panic: there are various toboggan runs for different levels of ability & recklessness, including mini slopes for children under 5. If you're feeling brave, you can jump in the air and land on the Big Air Bag at the centre of the park. Open from December to March subject to weather conditions. Tickets cost 25CHF for adults, 17CHF for children and 5CHF for the mini slopes.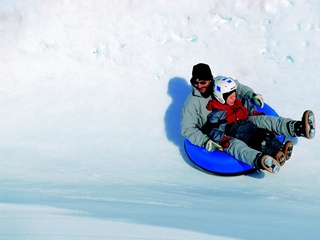 Tobogganing Park
Place des Feuilles
1854 Leysin
Phone +41 (0)24 494 28 88
 Les Diablerets, a 7.2km sledging slope that crosses a beautiful forest scenery and can also be accessed at night. The slope is suitable for all ages but little ones aged 3 to 7 should be accompanied. Les Mazots ski lift takes you to the start of the track, where you can hire a sledge or bring your own provided it has metal runners (plastic sledges without metal runners are not allowed). Open from December to March, from 9.30am to 4.30pm, depending on snow conditions. Tickets cost 14CHF for adults and 7CHF for children for each single run or 110CHF/55CHF for 10.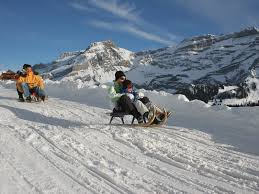 Maison du tourisme
1865 Les Diablerets
Phone +41 (0)24 492 00 10
info@diablerets.ch
You can find more information about sledging tracks in the Lake Geneva region here and here. If your little ones enjoy "snowtubing" (sliding down the slopes on inflatable plastic "doughnuts") you can also try the 2 toboggan slopes at Les Mosses in Vaud (just behind the Tourist Office, in the centre of the village) or the Espace Barbapapa in Rougemont (Pays-d'Enhaut).
There is a short but thrilling snow tubing slope in St. Cergue as well, right behind the "Ecole Suisse de ski & snowboard de La Trélasse". Depending on snow conditions it might be closed so check before setting off. They call it "fun lift" and the prices are 10CHF for half an hour (you can do as many runs as you can fit into the time and also share the snow tube between your children); 15CHF for 1 hour and 20CHF for 2 hours. Children younger than 8 should be accompanied by an adult.
Remember to bring helmets for you and your children. Happy winter sledging everyone!