How would you like to take part in the 1st SWAP-PARTY @ St – Prex (VD) ? In the U.S., Germany, France and many other countries the concept of clothes-swapping has been all the rage for a while now.
These ladies don't shop, they SWAP!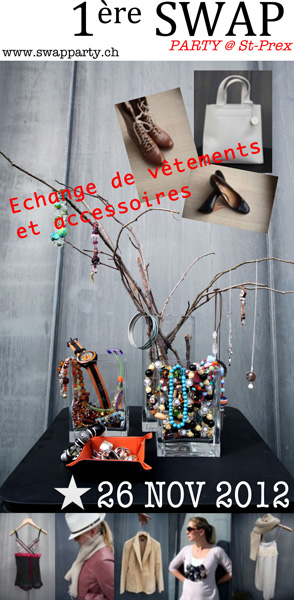 Ask yourself:
◦Is my closet overflowing but I feel like I have nothing to wear?
◦Am I bored with the contents of my wardrobe?
◦Do I have clothes that I haven't worn for over a year?
◦Do I have clothes that are too big or too small for me?
◦Do I need to reorganize my closet and get rid of all my 'bad buys'?
If so, then clothes swapping is your economical and eco-friendly solution: come and join The Swap Team for an evening out in a fun and friendly atmosphere on Monday the 26th November, 2012.
Find all information on how to participate on the Swap Party @ St Prex blog and register online, this is very important as spaces are limited !
FIRST SWAP PARTY @ ST PREX
Where: at the Foyer / Grand-Rue 11 / 1162 St-Prex (located between Rolle and Morges)
When: on Monday, 26 November 2012
6.30pm: participants deliver their swap items
8pm: Start of the 1st SWAP-PARTY @ ST-PREX
Here's some important things to remember, but click on the official website for the complete list of swap party rules:
1.
If you want to participate in the 1st SWAP-PARTY@ST-PREX it is essential for you to register on the Swap Party @ St Prex blog. You'll find the registration form on the left side of their welcome page. (Hurry! Limited number of participants). With your registration you accept the rules of the SWAP-PARTY. An entrance fee of CHF 18.00 is due for each person and includes a welcome drink.
2.
Bring along a minimum of three, and a maximum of eight, items on the evening of the SWAP-PARTY. These items (clothes, jewelery, shoes, handbags or other accessories) must be spotless, washed and without a hanger.
Happy swapping !