You might think that a post about a family resort in Turkey isn't particularly relevant to this blog but if you're anything like me and find it hard to get back into the swing of things after the Xmas holidays, thinking ahead to the spring/summer holidays can sometimes do the trick when suffering from a severe bout of the January blues.
Needless to say, this is NOT a sponsored post. We researched and tripadvisored until our fingers bled in order to find what we were looking for and are now only too happy to share our photos of the Gloria Golf Resort in Belek with other young families looking for somewhere sunny and warm where the little ones can run amok in all safety and, ideally, join some fun kids club activities while mum & dad recharge their batteries.
To cut a long story short, a relaxing and regenerating family holiday is exactly what we (somehow) managed to pull off last year, when we took our 3 buttons to the Gloria Golf Resort in Turkey for the Easter holidays. And since this amazing resort boasts what can only be described as the mother of all kids clubs, what better time to share info and some holiday snaps here on the blog?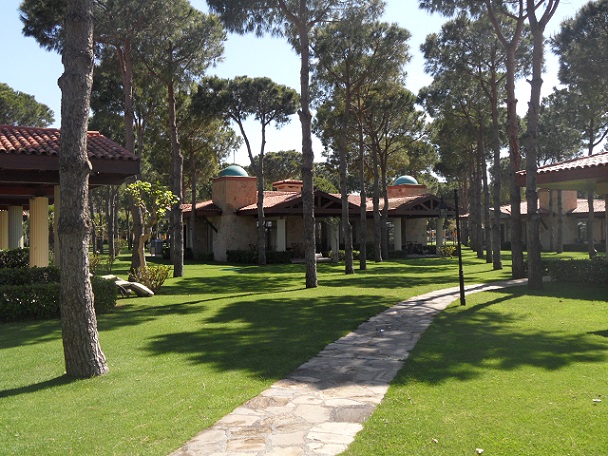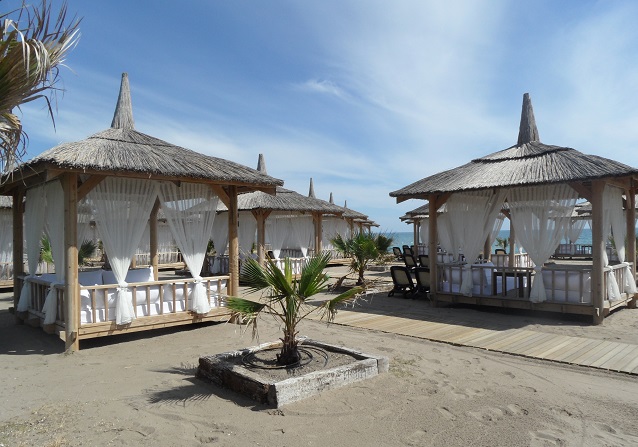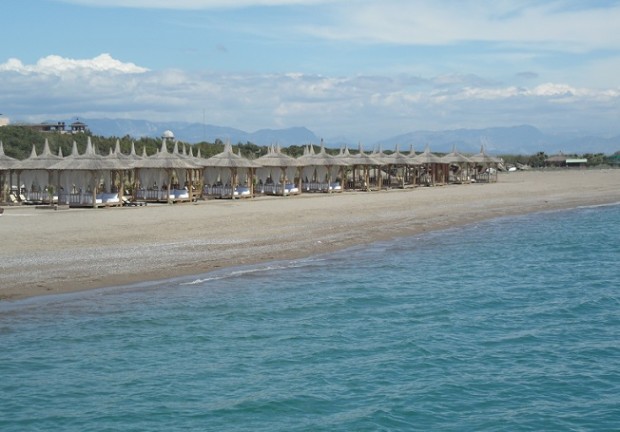 Practical info: Turkey can be easily reached from Europe and you have a choice of different airlines flying from Switzerland to Antalya International Airport departing from Geneva, Basel and Zurich airports, meaning there's a good chance of finding reasonably-priced deals on family flights.
Not only that, but flights are direct and relatively short (3 to 4 hours tops) which usually prompts a massive air punch when travelling with very young children. If you couple that with a 30 minutes commute from Antalya airport to the resort itself, then you're pretty much sold already (well…it did work for us).
In brief, the Gloria Golf Resort is an all-inclusive, Club Med style family resort which offers amazing value for money. You definitely get more for your Swiss francs here than in similar resorts in other countries. Not to mention that if you leave the resort to do a bit of sightseeing, you'll get the most from the lower cost of living in Turkey.
The resort's all inclusive formula covers unlimited drinks from the beach bars, restaurants, room mini bars etc. with alcoholic drinks and most spirits included, as well as the food from all buffet-style AND à la carte restaurants on site. The little ones will be happy to know that snacks throughout the day are included too, with plenty of ice-creams on the beach and other little treats on tap for them.
If you have a toddler or have just begun weaning your baby don't worry: freshly prepared baby purées are available from the buffet restaurants every day or, if you'd rather cook your baby's meals yourself, you can use the open kitchen in the Gogi Kids Club.
In terms of costs, the price of your holiday will depend on the type of room you choose, ranging from standard family doubles to luxury family villas with private pool. Take a look at their online booking system or give them a call to check prices. Low season is usually cheaper but you might still get a few rainy or colder days, while high season from May to September guarantees scorching hot weather but can get very busy too.
WHAT'S ON FOR MUM & DAD:
The photos below focus mainly on the great kids attractions this resort has to offer because, when the kids are entertained & happy, it's so much easier for us to finally let go, kick back and relax. But rest assured that there is plenty to do for adults too.
The Gloria Golf Resort itself offers an indoor swimming pool with sauna, Turkish hammam and La Source spa, as well as a state-of-the-art indoor fitness centre, an outdoor football pitch and tennis courts. There's a lot more on offer for parents who want to try something new, including water-sports, fitness classes and even a nightclub on site.
As you can guess from the name itself, the Gloria Golf Resort is home to the biggest golf course in Turkey with 45 holes, including two 18-hole championship courses and a 9-hole Verde course. If you're looking to improve your game, you can join The Gloria Golf Academy and Driving Range, Turkey's largest golf teaching facility run by a team of professionals who can teach lessons in English, Russian, Turkish and German.
If your better half is a golf addict, this is the perfect resort: with so many fun activities for everyone as well as sterling kids club facilities available all day long, there are no mopey golf widows/widowers in sight.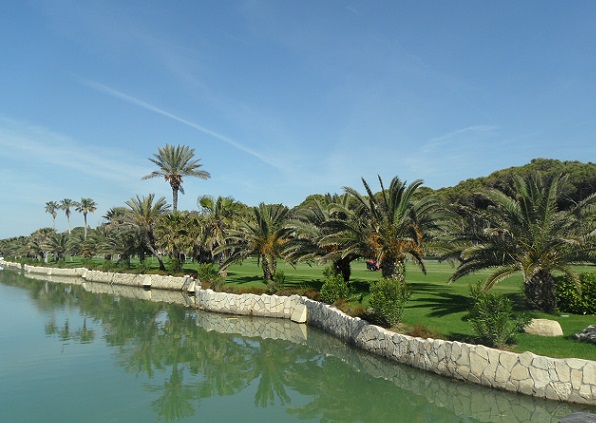 PLACES TO VISIT:
As mentioned before, we opted for a low-season holiday as the prices were too attractive to resist, but the only drawback was that we still had a couple of rainy, cloudy days before the weather started warming up properly.
Although initially we were a bit disappointed about that, it was probably for the best because it encouraged us to get out and explore the beautiful region around Antalya. The beach views of the Taurus mountain range from Turkey's Turquoise Coast are just breathtaking and Antalya itself has plenty of historical charm: from its imposing Hadrian's Gate to its winding streets, boutique hotels and ancient Roman remains, every corner is just picture-perfect.
Antalya is also a good base for day-trips to nearby archeological sites such as Aspendos, Olimpos, Perge, Phaselis, Selge, Side and Termessos, and – for the braver visitors – river rafting in Köprülü Kanyon National Park.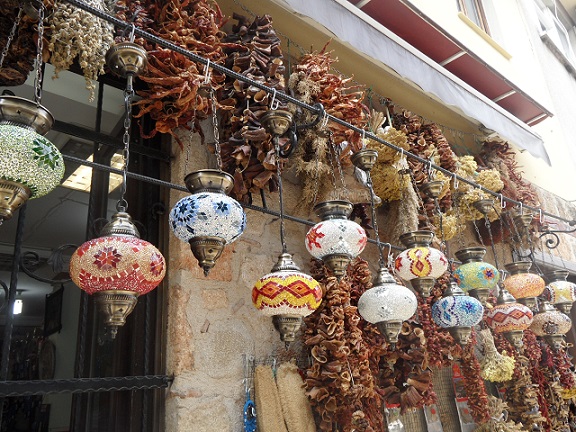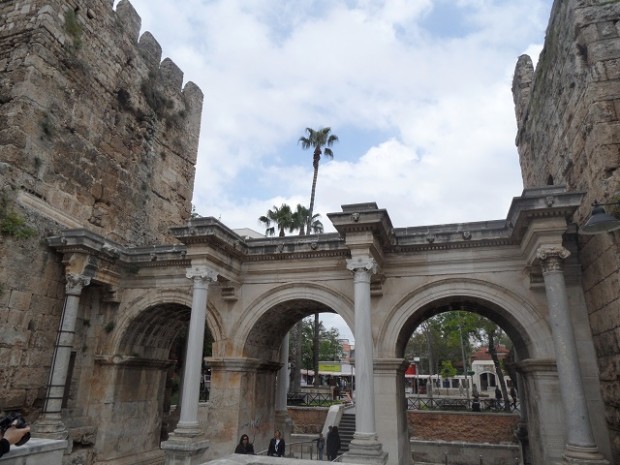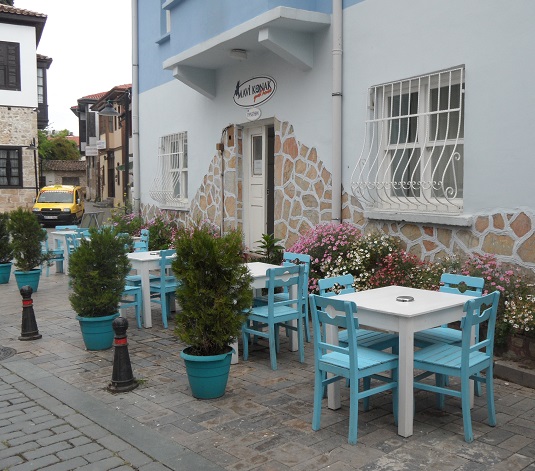 Other family attractions in Antalya include the Antalya Aquarium (the world's biggest tunnel aquarium); the Antalya Dolphin Park; the Fluted Minaret Mosque; Sandland and – if you manage to sneak away from the kids – some great shopping malls, like the brand new Migros Antalya Shopping Centre with over 130 stores under one roof.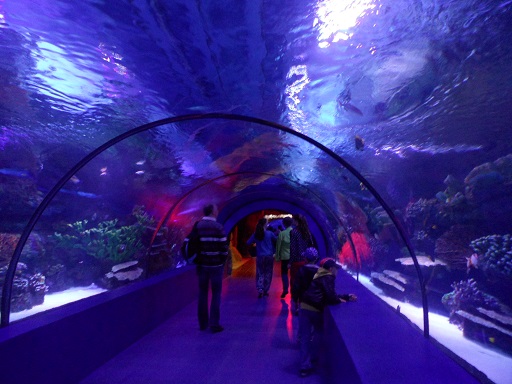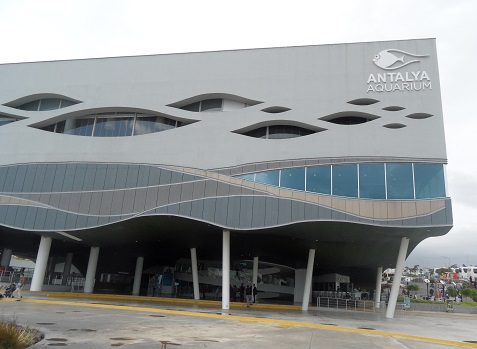 One other little problem was that the resort's outdoor swimming pools weren't heated, even though the weather wasn't as hot as it would be during high season, so my little ones found them a bit cold and didn't use them as much as I hoped they would.
Although to be perfectly honest, they were probably the only ones complaining about it because all other children were happily splashing around from the moment they landed to the moment they left!
BOW TO THE KIDS CLUB MASTERS
With 3 munchkins  under 10, we've been through our fair share of kids clubs in the past few years but the Gogi Kids Club and Gogi Fun Jungle at the Gloria Golf Resort simply blew our socks off.
Think not one supervised playroom but two enormous indoor areas, one equipped with board games, toys, large cinema room, indoor basketball court and baby play area; and the second with an amazing indoor climbing area, complete with suspended tunnels, baby sensory room and video-games for older children.
FIRST GOGI KIDS CLUB: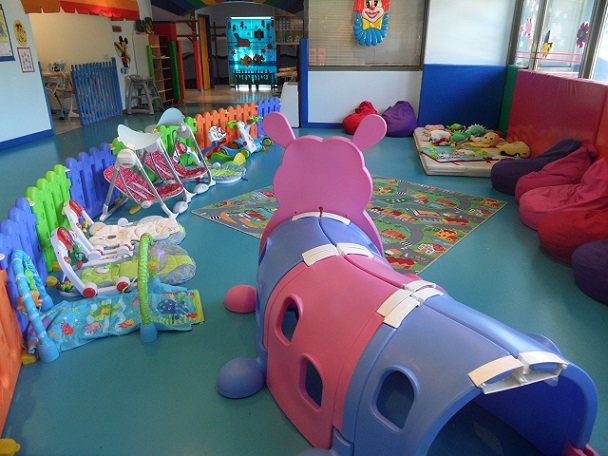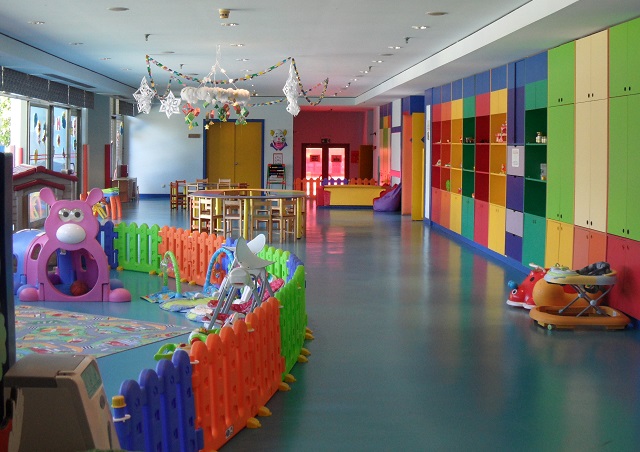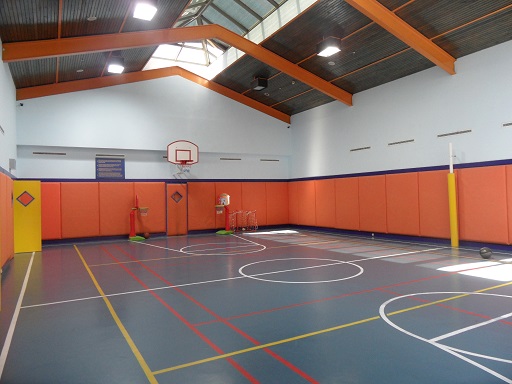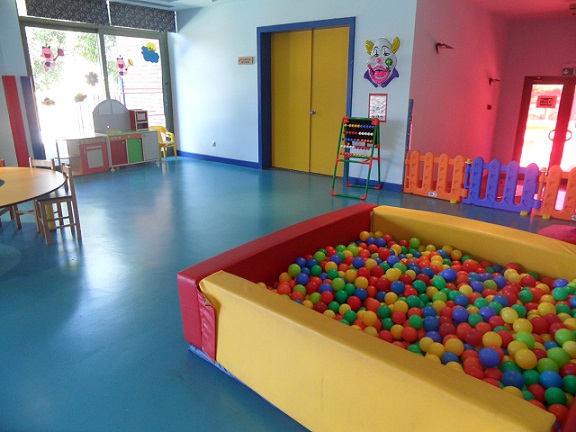 SECOND KIDS CLUB – GOGI FUN JUNGLE: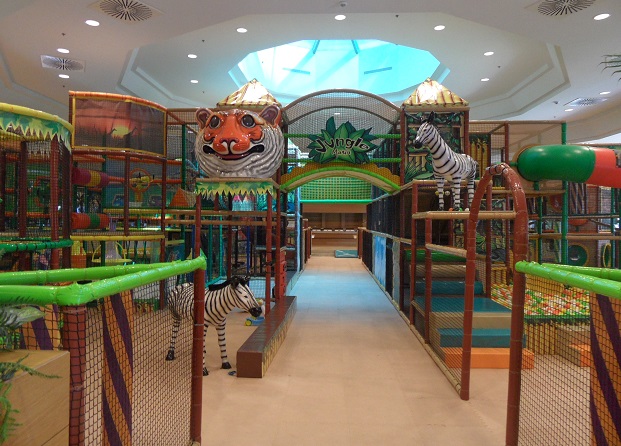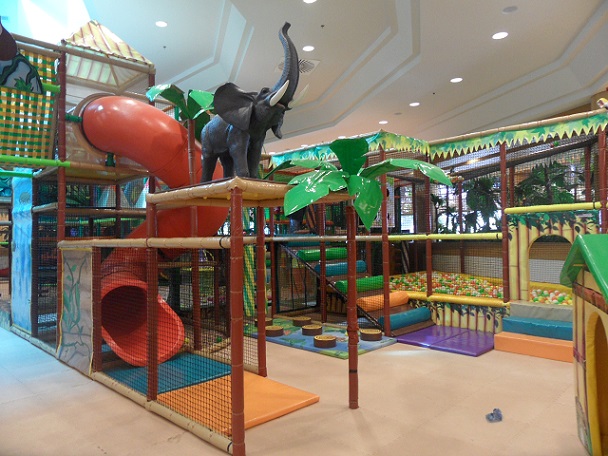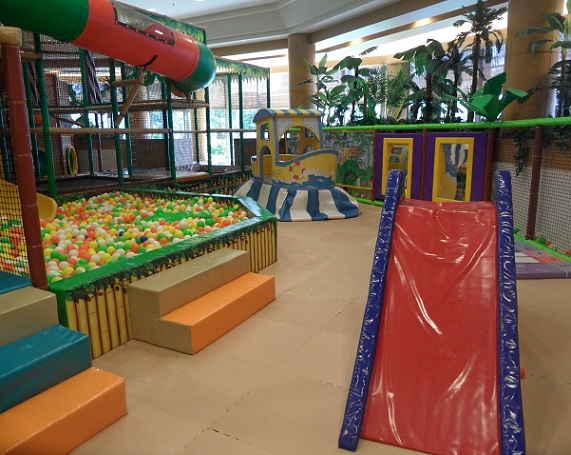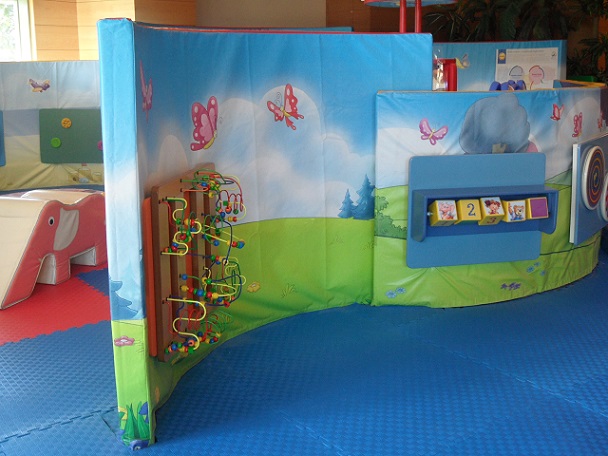 These two fun powerhouses are run by an international team of young men and women from Turkey, Russia and Europe (no need to worry about language barriers here) who are very skilled at sports, art & crafts and – on occasions – baby dancing too.
I usually find that my 9 year-old is a bit reluctant to join kids clubs activities with younger children as he's not into arts & crafts anymore, but here at the Gloria Golf Resort kids club he found a fantastic young supervisor who used to play basketball professionally and – as a result – he never wanted to leave the club. He was up every morning raring to go and never tired of the different football and basketball training session the supervisor organized for the older boys.
Another huge bonus was that, during our stay, the kids club was open until 11pm at night so there was no need to book a private babysitter to arrange a few nights-out à deux, we just gave the kids an early supper and then dropped them off at the kids club for an evening movie in the cinema room, baby disco sessions or some free play.
But the kids-friendly options didn't end here, as the Gloria Golf Resort boasts plenty of outdoor areas for children, including baby pools with slides and water cascades, high speed water slides, shaded playgrounds, wooden Wendy houses, mini golf, sports centre and even its own private zoo!
GLORIA GOLF RESORT WATER PARK & POOLS: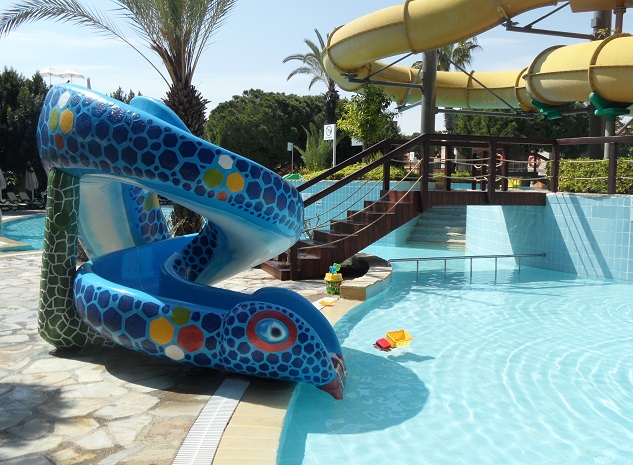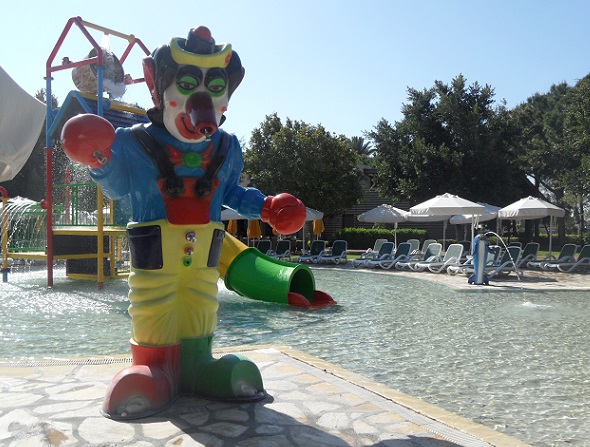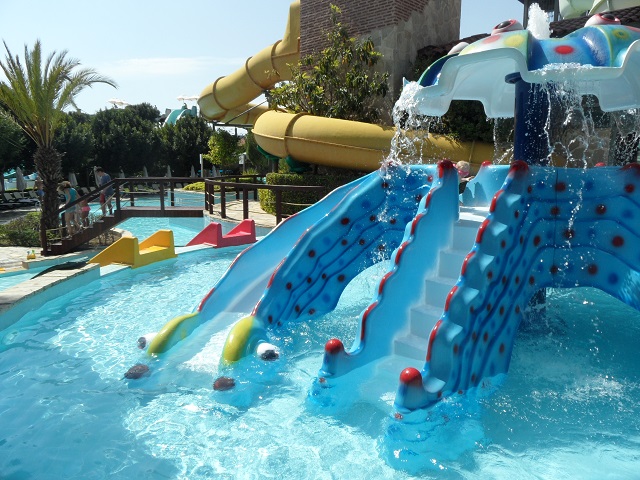 GLORIA GOLF RESORT OUTDOOR PLAY AREAS: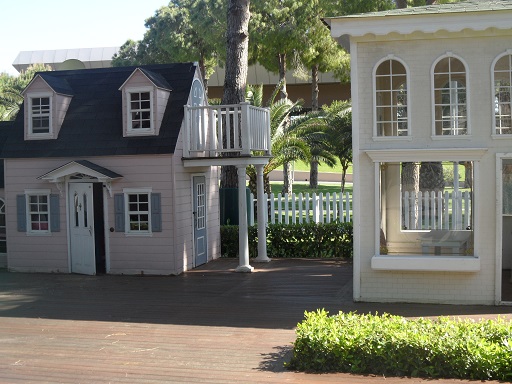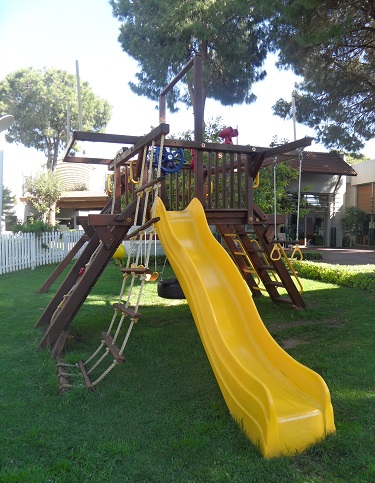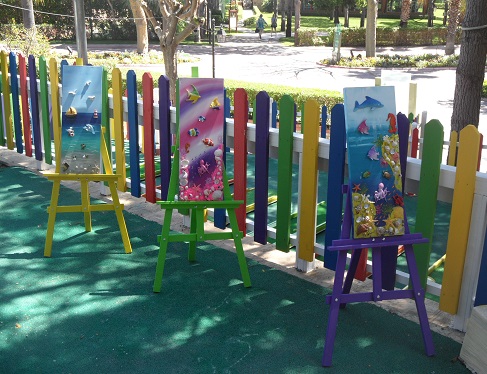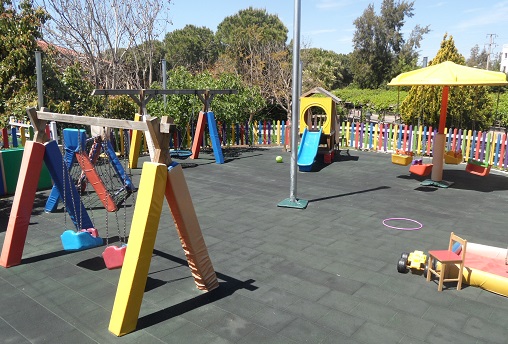 GLORIA GOLF RESORT ZOO:
The resort is also heaven for bird-watchers, with many different bird species nesting and flying to the area at different times of the year. You will find useful bird guides and panels throughout the resort to help you out on your bird-spotting outings!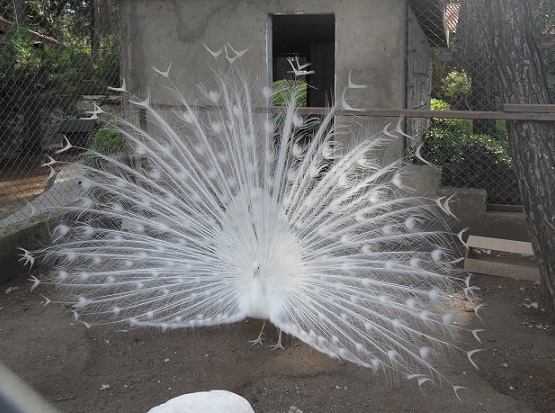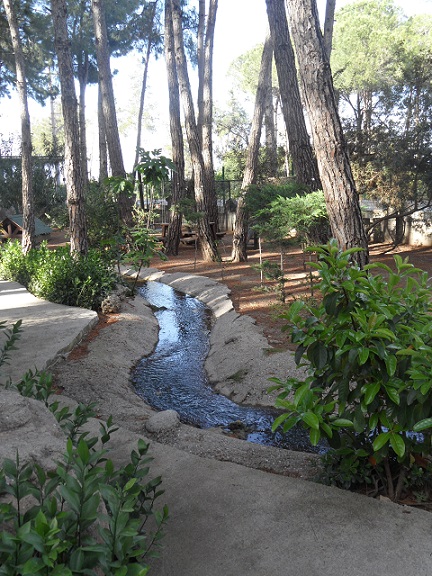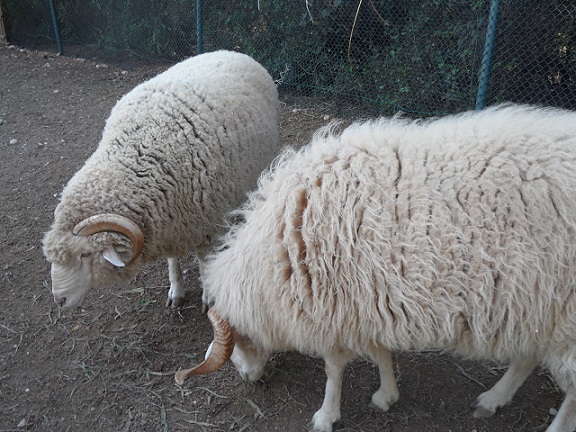 As you can probably guess from the length of this post and raving review we were very happy about our holiday choice.
But don't just take our word for it, give the Gloria Golf Resort a little check on Tripadvisor to see what other families thought of it, and let us know if you decide to give it a try!
Acısu Mevkii Belek Serik Antalya
Turkey
Tel: +90 242 710 06 00 (pbx)
Fax: +90 242 710 06 33
E-mail: info@gloria.com.tr