When I was small and living in France, all birthday parties took place at home. So when the time came for my daughter's 7th birthday and considering we were on a budget, living in a flat and unprepared to pay for a hall and entertainers – I searched my memory for clues to a successful home celebration.
My daughter was up to it and happy to invite only her three best friends. To give it a real party atmosphere we extended the list to five friends, so that would make seven with her and her sister. Seven in total, I thought, a perfect number for a 7 year-old's birthday party !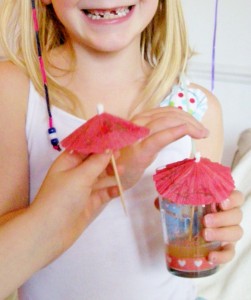 What were my favourite party games when I was a child? Fishing games. What would have I wanted at my own birthday party when I was small but couldn't ? Helium balloons. So these were now high priorities.
I asked my sister in France (who's never skipped organising a birthday party for her two daughters) about ideas for party games.
We started by dressing up the girls, and to avoid any fights, got them to pick a princess name out of a hat. It worked, and nobody said: 'you've got Rapunzel, I'd seen it first'…so far so good.
A mixture of grenadine, pineapple juice and lemonade in Disney princess' glasses made the perfect 'mocktails' to glam up the vegetable nibbles – 'better serve the veggies before the treats', as my sister had wisely suggested…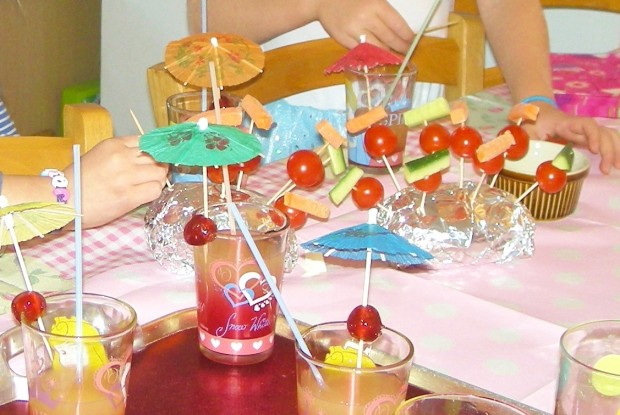 Being in a somewhat confined space, we moved from a room to another between the different activities. They took turns at drawing something on a leftover roll of lining paper while the others had to guess what it was. It was a quiet game, they enjoyed it, although they squabbled a bit over who'd get the winner's lollipops…'you've got the pink one! I want one too!'
Next, we moved onto a dancing competition on a background of classical music. The princesses, holding numbered cards to vote for the best dancer, proved to be fair judges. They got really excited while dancing and welcomed the next activity with great concentration.
Sitting down around a table covered with glitter, foam shapes, feathers, googly eyes, and everything else you need to get crafty, they worked really hard (indeed it was hard work: the glue was rather inefficient and it took some determination…) at turning a wooden spoon into an animal.
After a game of colin maillard – where one child is blindfolded with a scarf and must catch someone, guessing who it is by simply touching their face – we brought out the birthday cake, with lots of sparkles and a tray of delicious homemade canapés.
As my daughter is allergic to various foods, I could not order a professional-looking iced cake, so I'd made one myself, which was a slightly more elaborate version of a four-layers chocolate cake with strawberries, based on one of my mother's recipes.
The seven princesses then got fishing. They had to hook wrapped up parcels with a plastic rod, proudly filling Tinker Bell tote bags I had previously labelled with their names.
We could have gone on with pass the parcel (in France it's called "pass the teddy"!), the donkey's tail, musical statues, but the doorbell started ringing. Each of them left with a party bag of 'vintage' sweets – fizzy bottles and popping candy being my favourites. It was as much fun as it was 30 years ago.

Text and photos copyright C.A. 2012