We can't stop grinning from ear to ear since Mme Esther Zaricot agreed to give us this interview. She's a Swiss mum-of-two and author of one of the funniest, coolest blogs we've ever come across, click here to see why !
Drawn using only Paint and her mouse (and only during her lunch breaks), Esther's blog can always capture those sweet, funny moments we've all been through with our BFFs, husbands and little ones…
The blog Esther Zaricot is in French but she kindly drew this picture just for our expat community, thank you Esther !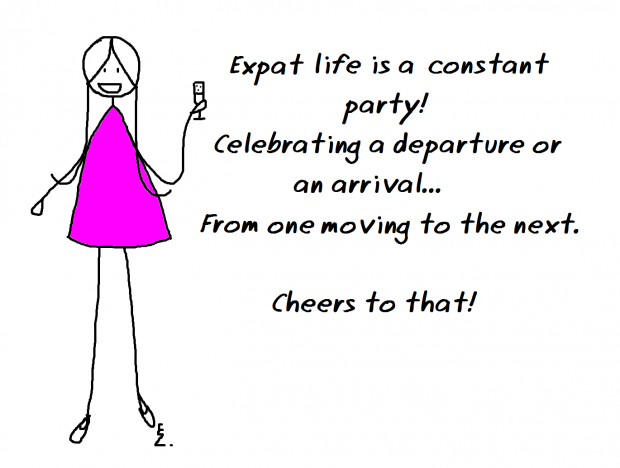 My Family and I
I am French AND Suisse. I have been living in Geneva for 12 years, but before that I was an expat myself. I lived in the UK for many years. I have two boys, one is 4 and the other one is 7. They constantly fight.
The Story of My Blog
I started my blog about 4 years ago. At first, it was just for me, a bit of a therapeutic outlet as well as a creative and fun thing to do. Something I needed to keep me sane. You can see from the first post to the last how my drawing style has changed. I like to think I've made great progress and I can draw much better with my mouse now !
My Cartoon Character
Esther is me, but also my girlfriends and situations I find funny, things I feel, see and relate to. I wouldn't say Esther is particularly Swiss… she is just like any other girl, a woman juggling work and family life.
The post I wrote about shaving (or not shaving !) your legs, for example, is a conversation that truly happened between my friends and I.
I thought it was so true and funny that I needed to share it ! Click here to read "Libido et en bas".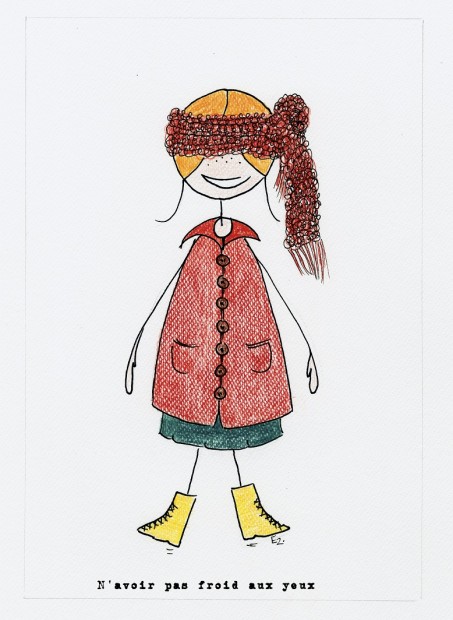 My Favourite Post
I wouldn't say I have a favorite post but maybe one I most relate to because it really captured what I felt when I drew it, is the one about the Oedipus complex: "Complexe complexe".
Both my boys are always around me, grabbing me and they are very demanding so I would say, yes, this post is one of my favorites !
Who Inspires Me
I have always loved reading comics but maybe a woman cartoonists who really inspires me (and whom I truly admire) is Claire Bretècher. From an early age I was captivated by her stories and her coup de crayon. As a teenager I would read Agrippine with delight. When I was living in England I then switched to other type of comics such as Viz. I also got totally addicted to the Freak Brothers as well at the time. I love that kind of humor.
As an illustrator I am a big big fan of Marc Johns.
My Vernissage & the Golden Blog Awards
Indeed, I just had a vernissage in Toulouse on the 9th of October, which went really well. Apart from the blog (only drawn with a computer mouse and on Paint), I also draw on paper… This exhibition in Toulouse will continue until the 20th December 2012 and is called  . It's based on French idiomatic expressions but I guess it can be very funny for non-French speakers as well!
I will also exhibit 2 drawings from the "Idiomaticot" at the opening of the "Territoire(s)" gallery in Thonon-les-Bains on the 27th of October 2012. I am also hoping to have my own exhibiton in Geneva next year, fingers crossed !
The Paris 2012 Golden Blog Awards is a competition I've entered in the cartoonist category and people can vote for me…(click here to vote for Esther's blog).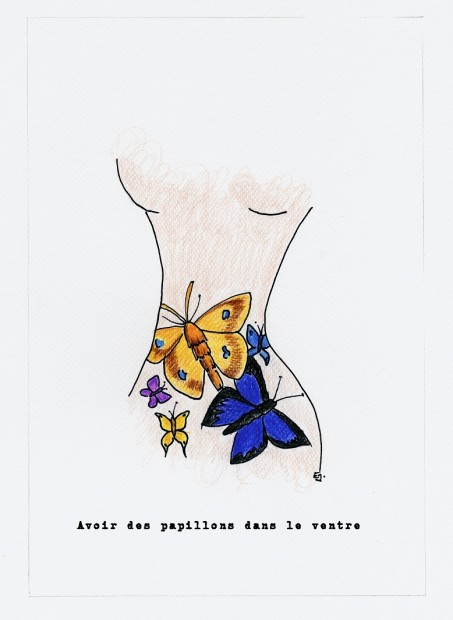 Why I Love Geneva
I wouldn't live anywhere else than Geneva with my kids. Every time we go to the lake, be it summer or winter, I realize how lucky we are. Geneva is such a beautiful place and it is located right at the center of Europe. My kids love the Bains-des-Paquis and the Muséum d'histoire naturelle (especially since they have been to see the KK Zoo exhibition !). I also take them to a lot of art openings, we love doing the Nuit des Bains together.
Secret Tips from a Genevan Mum 
Whenever I get the time, which is not often, I love & need to get pampered and treat myself to a massage and a drink (!)
For my massage, I go to Mao Massages in rue Valin because you don't have to get undressed and you can choose between a 30 minutes back massage or 30minutes foot massage. Afterwards, I feel like new ! It's a perfect treat for a lunch-time break.
On Tuesday evening during the winter, my mum takes the boys to her house so I can go to the sauna at the Bains-des-Paquis. Tuesday it's girls night at the Bains, so I let myself stew for 10-15 minutes, then I go swimming in the lake. I love that feeling.
For a drink, I usualy go to Le Phare. I had my first exhbition here in 2011. They were so nice and caring so I felt very well looked after ! In the summer I take my boys there because they can play in the street (there are no cars) and they have great limonades.
A great place I also enjoy with my kids, especially on a Saturday after rummaging through the flea market in Plainpalais, is Ou Bien. It's a lovely restaurant, deli and art gallery where you feel at ease but yet, very trendy.
Thank you so much again to Esther Zaricot for sharing her tips and fab blog with us, please remember to vote for her in the 2012 Golden Blog Awards !