If you've just moved to Geneva, chances are you will be on the lookout for various bits & bobs for the house, including furniture. We've been there and understand how difficult it is to get it all sorted (in our particular case with 3 little reluctant shoppers in tow and a significant lack of DIY skills).
It is true that IKEA in Vernier and Aubonne (VD) offer excellent supervised play areas and family-friendly restaurants, but there's only so much flat pack a parent can handle in a lifetime so we were ecstatic to discover that the Pfister flagship store in Etoy provides not only a lovely restaurant furnished with indoor play area & toys, but also a fabulous garderie d'enfants open every afternoon Monday to Friday and all day on Saturday.
The Café Restaurant Ch'Etoy is located on the ground floor of the Pfister showroom and dishes up the perfect Swiss-style comfort food I crave when I am tired and suffering from toddler overload: croûtes au fromage with ham & egg; rösti, omelettes aux fines herbes and succulent meat stews with side vegetables. Prices are very reasonable and kids menus are 9CHF per child, including free sirop.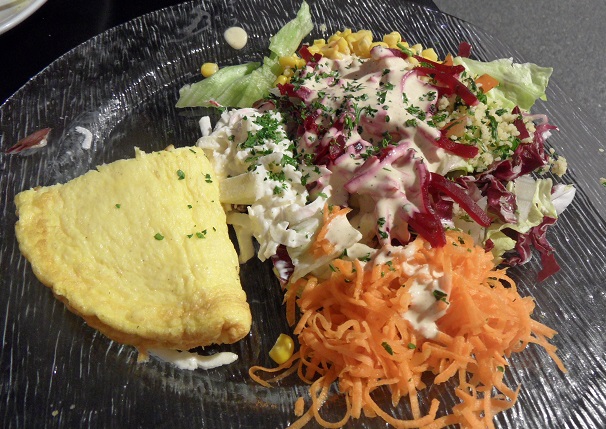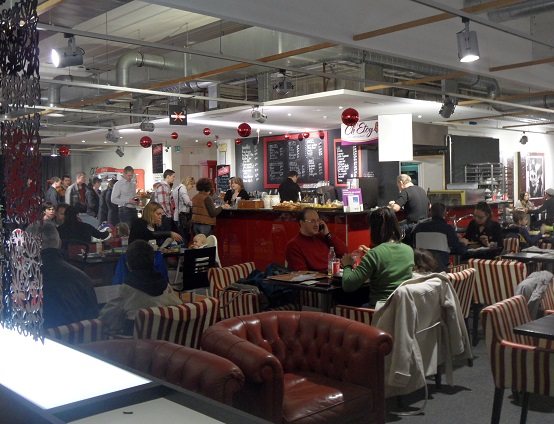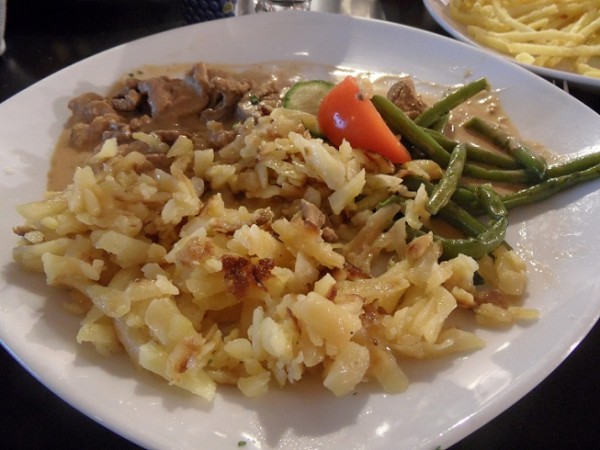 The restaurant's indoor play area is right in the middle of the eating area so you can keep an eye on the little ones while you eat & they can ran off as soon as they've cleaned up their plates. We love it because it's stocked with some great toys suitable from different ages.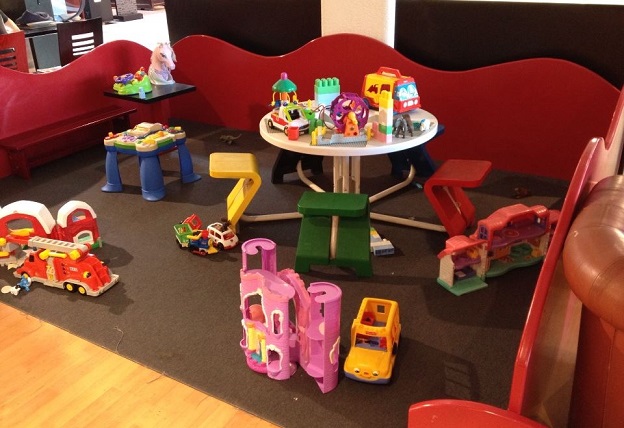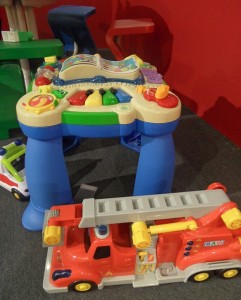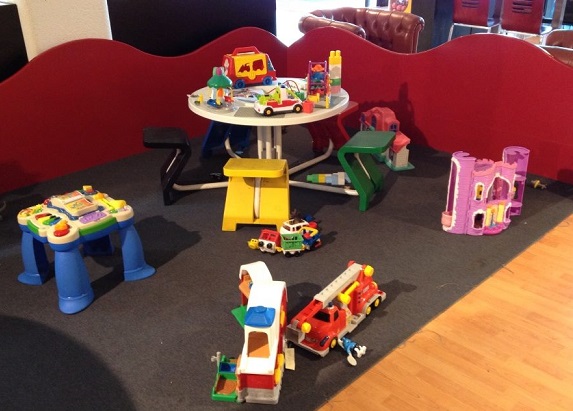 The Pfister garderie d'enfants is on the top floor of the showroom, easily spotted by the outline of the large wooden pirate ship filled with plastic balls that makes it the best shopping centre garderie that we have ever seen in the area.
Calling it plush wouldn't do justice to its elegant Scandi decor, wooden furniture (including an adorable Wendy house!) and chic pastel colours. It's also well-stocked with toys for all ages and climbing structures to satisfy even the most daring climber. It's so well-run and so much fun that my 3 little munchkins never want to leave!
Children aged 3 to 7 can be left in this supervised garderie free of charge for 1 hour, while you shop at Pfister or look around for inspiration: this is one of the largest Pfister showrooms and at 16,000 square meters they offer plenty of choice and styles to suit all tastes.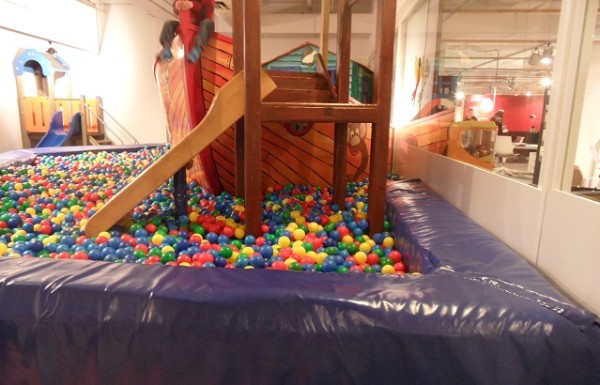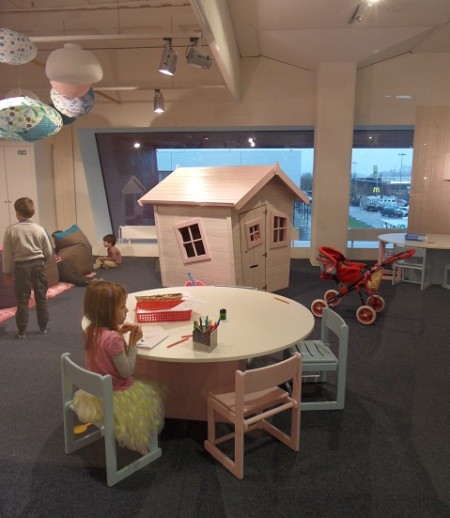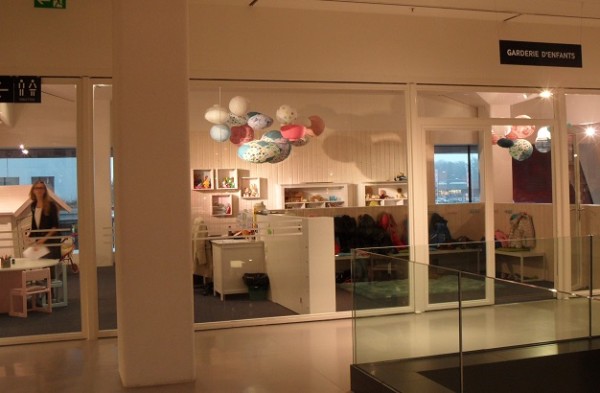 Sortie Genève de Pfister
Rue de l'Industrie, 10
1163 Etoy
021 807 49 45
info@chetoy.ch
Open from 8am to 7pm Monday to Friday; 8am to 9pm on Thursdays and 8am to 6pm on Saturdays.
—————————————————————————————————————————————————–
Centre de l'Habitat
Route de l'industrie 10
1163 Etoy 
Tel. 021 821 81 11
Open from 10am to 7pm on Monday, Tuesday, Wednesday and Friday; 10am to 9pm on Thursday and 9am to 6pm on Saturday.
Pfister garderie d'enfants
Second Floor – Pfister showroom
Open Monday, Tuesday, Wednesday and Friday from 2pm to 6pm; Thursday from 2pm to 7pm and Saturday from 10am to 6pm. 
Here's a list of other furniture superstores and shops in the Geneva, Vaud and neighbouring France area, remember that you can buy high value goods in France or any other EU countries and then ask for a VAT refund (19.6%). When you then import the item into Switzerland you'll have to pay Swiss VAT at a rate of 8%, saving yourself 11.6%.
FURNITURE STORES in GENEVA:
FURNITURE STORES in VAUD:
IKEA in Aubonne (VD)
Maisons du Monde are about to open a brand new store in Etoy, so watch this space!
Fly in Crissier and Yverdon is the Swiss equivalent of Ikea but with a funkier edge and some contemporary solid wood pieces at great prices. They offer a delivery & assembly service that might just save your marriage.
Petit Toi in Lausanne
FURNITURE STORES in FRANCE:
THIS IS NOT A SPONSORED POST, please leave a comment below if you have other furniture stores to recommend – thank you!