As promised, I am back with part 2 of my Escalade post to tell you a bit more about one of Geneva's oldest and proudest traditions. Did you have chance to take part in the Marmite Race last weekend? Costumes were great fun: from nuns to bananas, Smurfs to jellyfish everybody was there !
The countdown to this historical celebrations has started. The weekend of the 12th to the 14th of December 2014 will see Geneva's old town take a step back in time to celebrate the Duke of Savoy's failed attempt to conquer the city in 1602.
Legend has it that the city was saved by the promptness of a certain Mrs Catherine Cheynel (better known as Mère Royaume), who – during the night of the 11th of December 1602 – heard the Savoy troops outside her kitchen window, poured boiling hot soup over their heads and then raised the alarm to alert the sleeping Genevans.
Considering Catherine Cheynel was the wife of Pierre Royaume, a Huguenot refugee from Lyon who fled France and took residence in Geneva in 1572, it would be fair to say that on this fateful night, the city was saved by a real kick *** expat wife! How cool is that?
The amazing historical re-enactments and procession in the old town are organised by the Compagnie de 1602, so check out their website for details of all the events in order to ensure you won't miss out on anything.
From markets to storytelling, special torch-lit guided tours to hot soup and mulled wine this is truly one of Geneva's most glorious events.
Your budding little knights and princesses will also love this festival where children get dressed up and walk around the streets of the Old City asking for treats. The celebration ends on Sunday evening with a torchlight procession through the streets of the Old Town and a big bonfire in Geneva's Cathedral square.
Remember as well that only on this occasion you are allowed to visit the Passage de Monetier, which takes visitors along the base of the old fortification walls under the Cathedral, so definitely one more reason to delve deep into Geneva's ancient history.
And do I need to mention the delicious chocolate marmites once more?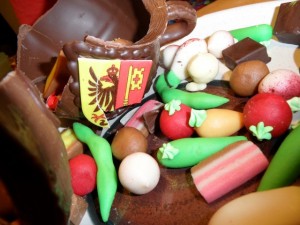 To find out more about the history of L'Escalade, visit the official website of the Ville de Genève and of the Compagnie de 1602.
For full programme details in English, click here.
Finally, remember to have your camera ready for the great historic procession on Sunday 14th of December 2014 from 5pm to 8.30pm !