A few weeks ago, Expat Husband and I booked (or should this be begged?) the kids' favourite baby-sitter to come on Saturday morning so we could head off to Val Thoiry to order some bits of furniture & lighting for our new house.
Yes, unfortunately it looks like my 3 little buttons inherited their shopping-endurance genes from their dad not me, which means they can't tolerate spending more than 15 seconds inside a busy store before going completely bonkers. And, as you might know, boredom-fuelled little monkeys (or husbands, for that matter!) don't make great shopping buddies, especially when it comes to bigger & more expensive purchases that will feature predominantly in your living room.
Thankfully, super-adorable & gorgeous C. agreed to lend a helping hand and so The Reluctant Shopper and I set off, leaving the little ones snuggled comfortably on the sofa, sharing a cuddle with their favourite baby-sitter.
The only snag in this perfectly executed plan was that, around midday, I got ravenously hungry but didn't really fancy grabbing a tiny slice of quiche-on-the-go (and no, my dearest Reluctant Shopper, I won't be having a fast-food burger no matter how speedy that would be).
We didn't have time to go and find a bistrot or restaurant nearby but thankfully I remembered that Satoriz Thoiry had a small restaurant right in the middle of it, serving organic set meals at lunchtime and – boy – did that make my day!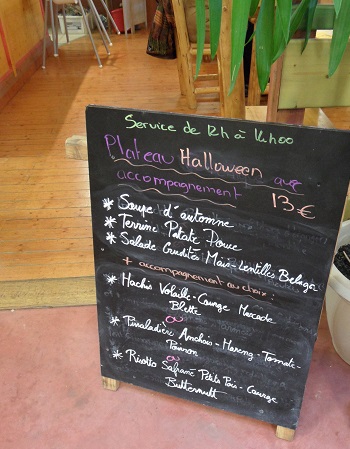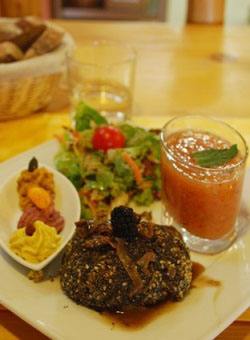 The bistrot at  Satoriz Thoiry serves lunch from 12 to 2pm and turns into a tea-room in the afternoon. The fresh daily menus are made with organic ingredients and include one main dish of choice, with set accompaniments such as soup, crunchy salad and vegetable pâté…all for just 13 Euros per person!
As we were there around the end of October, we had pumpkin soup with a lentil & Chinese cabbage salad and a slice of pissaladière. Unfortunately, we didn't have enough time for dessert but I will definitely save that for our next visit.
The bistrot setting is lovely, all solid wood tables and fresh herbs scents coming from the fruit & veg isle of the organic supermarket. They do have highchairs and I saw quite a few mums with young babies and toddlers there, but there is no play-area as such and service can slow down when the bistrot is full, so if your little ones are restless & full of energy you might need to get there as early as possible to avoid crowds.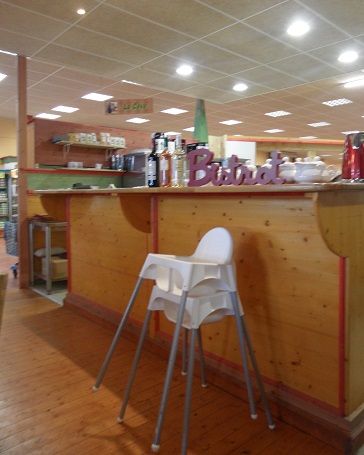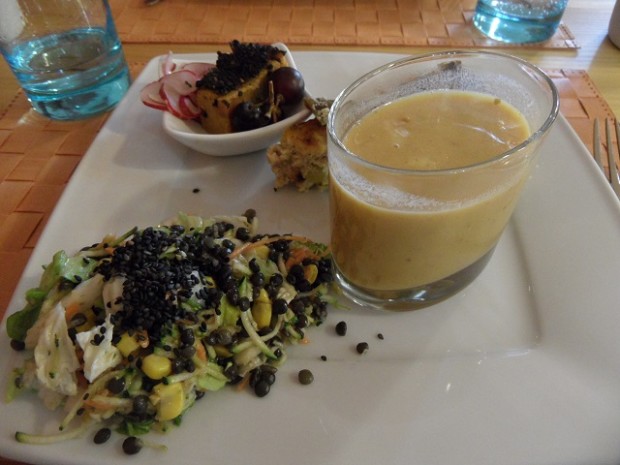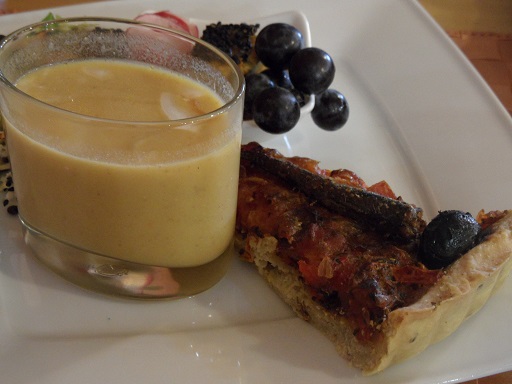 The great thing about our organic lunch pit-stop was that I was also able to squeeze in a quick tour of Satoriz's organic supermarket, in order to stock up on some much-needed staples before heading back to our little ones. So, if you ever find yourself in a similar predicament as mine, give the fast-food a miss and try this lovely organic bistrot!
This is NOT a sponsored post, but a genuine account of our personal experience. Please click here for more info about the Satoriz Thoiry bistrot, and here for more on the organic supermarket.
Centre Commercial Val Thoiry
01710 THOIRY
Open from 9am to 7pm, Monday to Saturday.
Tel.: +33 (0)4 50 99 14 94