We have some great news for expectant and new mums in Geneva looking to improve their French language skills!
From January until May 2016, OSEO Genève is organizing French language courses for mums, focused on acquiring the correct vocabulary and conversational skills to talk about pregnancy issues, baby's health and birth.
This course will enable mums to feel confident when speaking in French to local health professionals and paediatricians, helping to reduce the stress we all feel as newcomers in Geneva, caring for little ones with only a limited knowledge of the French language.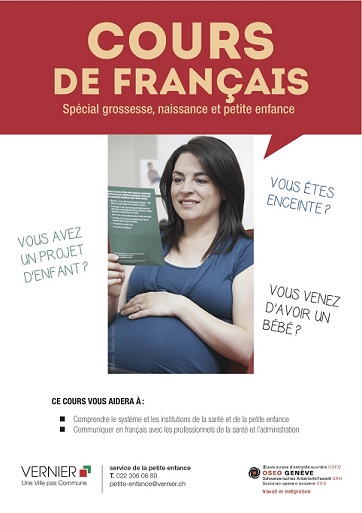 The best thing about the course is that it only costs 150CHF for the whole term, as it's subsidised by the Commune de Vernier. The course is run by a nurse, and lessons take place every Wednesday morning (except during school holidays) from 8.30am to 11.30am at the Espace de vie enfantine Bourquin in Vernier.
If you have a young child and are expecting a second, don't worry as there will be a nanny on site to take care of siblings whilst mum attends her French classes.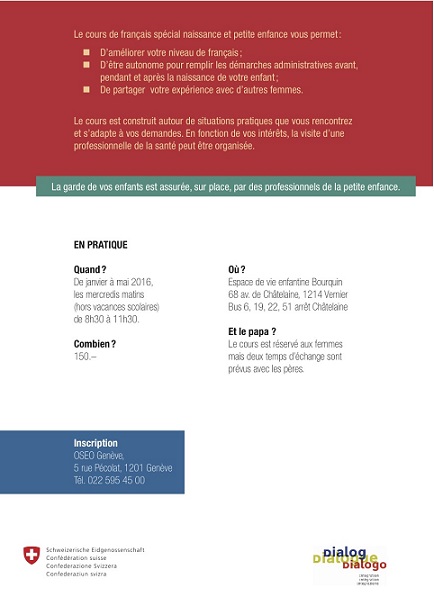 FRENCH CLASSES FOR MUMS
January 2016 to May 2016 – Wednesday mornings from 8.30am to 11.30am.
Espace de vie enfantine Bourquin
68 avenue de Châtelaine
1214 Vernier
Bus 6,19, 22, 51 – stop Châtelaine.
You can register directly with OSEO in Geneva, their phone number is 022 595 4500.
This is not a sponsored post, thank you Sylvie for sharing this very useful information!