The story of Swiss ethical label L'Asticot began in 2009, when young mums Christie and Danièle put their creative pencils to paper and designed L'Asticot's first collection of original, super-wearable, fun & very, very cool kids clothes.
I love their colourful, unique designs that are such a pleasure to wear even for the most active and wriggly little monkeys, and I definitely support their ethical commitment to fair trade standards and sustainable development: for me their simple lines and great quality sum up everything I'd expect from a Swiss design brand…but it's their trendy cuts and sense of fun that make them so appealing even for the pickiest mini-fashionistas.
If you'd like to see for yourself and – why not – bag yourself some sterling good deals just in time for Christmas join L'Asticot's team for their Minibazar Automnal on Sunday 25th of November 2012 from 3pm to 6pm at the Café Gallay in Geneva.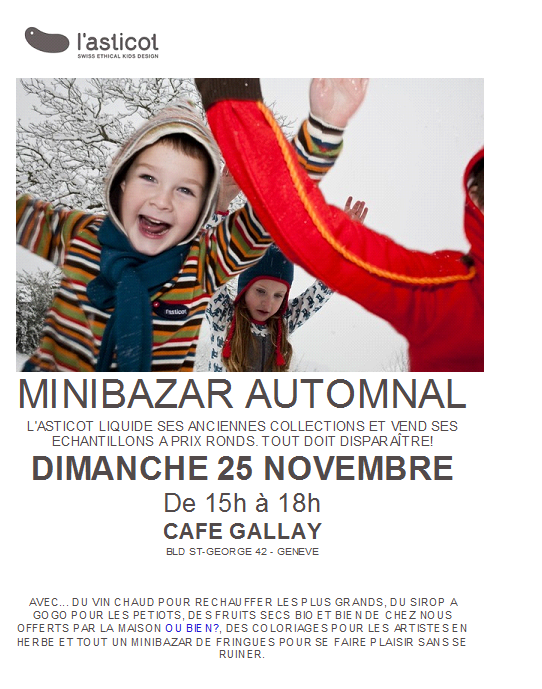 The collections on sale are from previous years (but still fab if you ask me) and there will also be a sample sale to die for. What a great way to start-off my Xmas shopping with my wisest foot forward !
I'll be taking the tribe along because there will be mulled wine (for me) and plenty of drawing material for the little ones, as well as refreshments and organic dried fruit by local Genevan company OU BIEN ?! (who – incidentally – has recently been awarded the prix Suisse de l'Ethique).
See you there xx