What do you do when you come across a place that brings back some of your happiest childhood memories and at the same time reminds you of a place your heart calls 'home' ? Simple: you fall in love, which is what happened to us last week when we had brunch at Un R de famille in Geneva.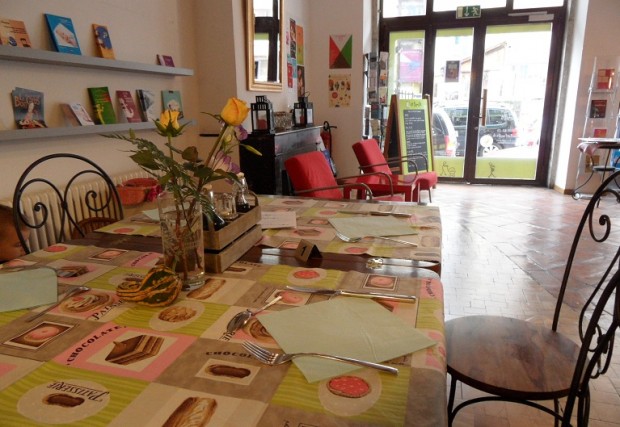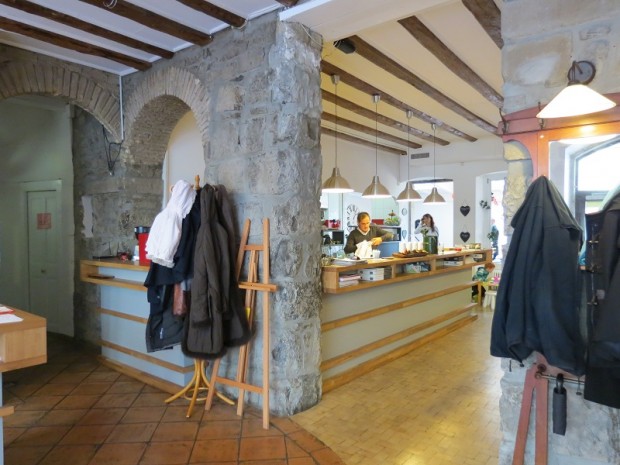 Un R de famille is an information centre for families founded by the Swiss association Pro Juventute and it's situated in a quiet side-street very close to Geneva's Hôpitaux universitaires de Genève (HUG). They organize some great activities and seminars for parents, so it's always worth checking their website for more info.
I can assure you that there's nothing drab about this place at all, on the contrary the atmosphere is relaxed, warm and homely as well as perfect for kids of all ages. When I walked through their door, I immediately felt as if I'd stepped back into Neal's Yard, one of my favourite parts of London and it made my heart beat a bit faster…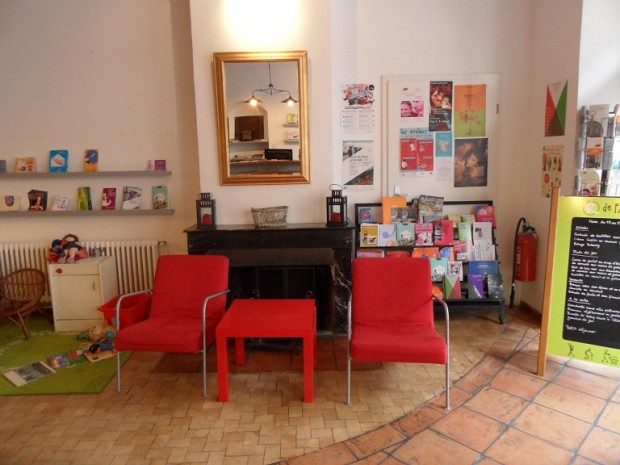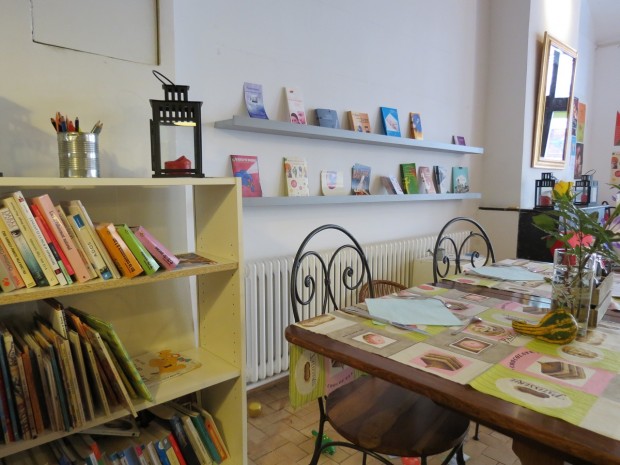 If you'd like to meet a friend for coffee or have lunch with your little ones, Un R de famille is perfect: there's a little corner with some toys and a wide selection of books for children and mums. I couldn't believe it when we arrived there and all 3 my restless cheeky monkeys sat down on a playmat leafing through some story books…this "r de famille" certainly worked wonders for them !
They also have a separate den/playroom downstairs called "la cachette" where children and their carers can play and where they hold story-telling sessions during their "brunch des familles".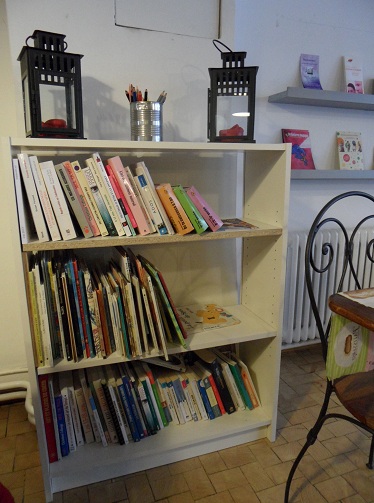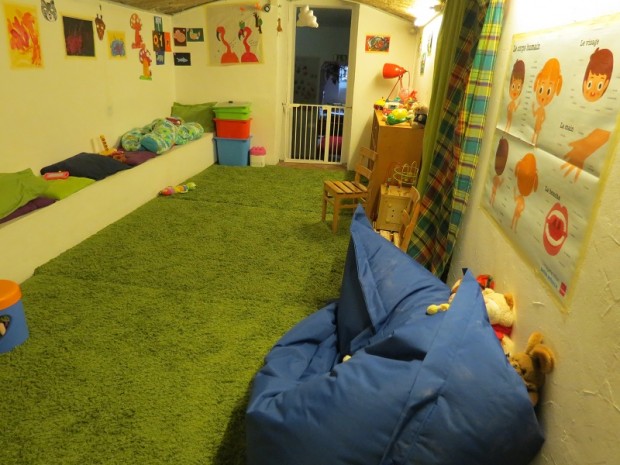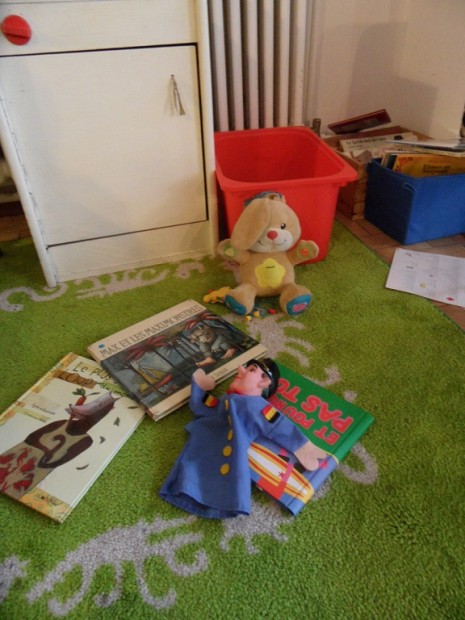 Back to their Sunday brunch and my childhood memories – I had my 'madeleine' moment when they served me a lovely œuf à la coque…this was one of my favourite things when I was little and I remember having to nag my mum to make me one as it's not a very common dish in Italy !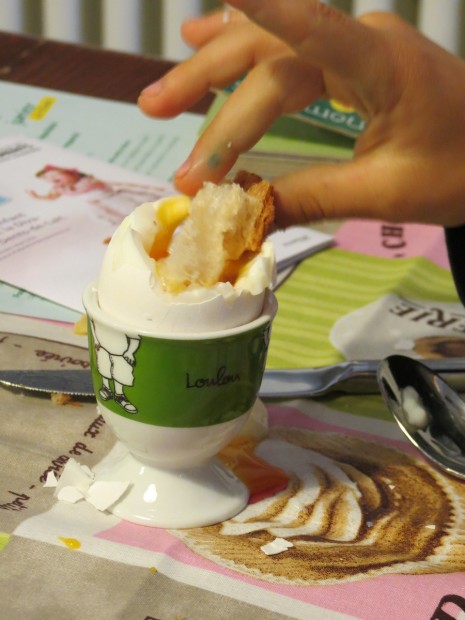 The Brunch des familles at Un R de famille is continental-style rather than American and is displayed on a large buffet near the open-plan kitchen. Although you'll find cured and cooked ham, the choice of vegetarian dishes, soup and salads is mouthwatering (another reason why it reminded me so much of London's Neal's Yard!): beetroot and goat's cheese, fennel and oranges, indive salad with pinenuts are just some of the ones I piled high on my plate.
They also serve Betjeman & Barton's teas, which is an absolute treat if you love your green or black brew (I tried "La dame du Lac" and it was delicious), as well as hot chocolate, cappuccino etc.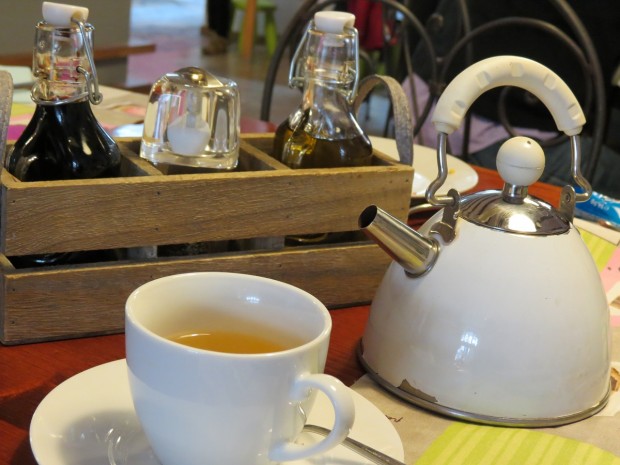 The Brunch des familles takes place every Sunday from 10.30am to 4pm, with story-telling sessions for the little buttons at different times of the day. They have highchairs available but it's better to book one in advance. Prices are very reasonable: adults pay 28 CHF, while children under 2 eat for free, those aged between 3-5 pay 2 CHF per year of age and older ones pay 12 CHF each.
Reservations must be made in advance by phone (022 328 22 23) or email at unrdefamille@proju.ch
If you've never been to Un R de famille we can highly recommend it – they also have a large terrace outside that is a perfect spot during the warmer months.
This is definitely the family-friendly, cool & unpretentious Geneva we love !