A trip to Chamonix is not complete for us without a meal at Le Carlina. The menu is comprehensive enough to allow an enjoyable ponder whilst you sip an apéritif, but not too long so as to make you think that they can't possibly cook everything well, can they? Well, they can and they do.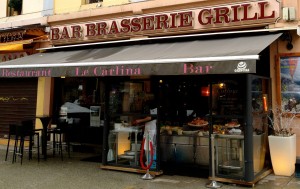 We have eaten here throughout the seasons. This time we went for lunch to celebrate Himself's birthday. His choice was simple – the irresistible french onion soup followed by yummy lasagne.
After much deliberation eventually rejecting (this time around anyway) the blanquette de veau and the carré d'Agneau – I opted for the Formule du Jour – a duo of smoked duck salad, with goat's cheese layered with smoked duck (need I say more ?) followed by a delicious 'stack' of cod and mashed potato on saffron rice.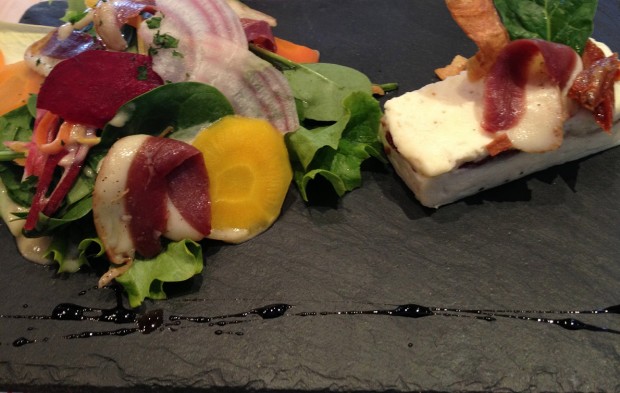 Our visiting Niece followed her Uncle's lead with soupe à l'oignon followed by tartiflette, while her beau spent much of the lunch oohing and ahhhing over his tender fillet of beef and perfectly cooked frites.
We were lucky enough to be served by Simon, a consummate professional who has his eye on the ball at all times, for whom nothing is too much trouble and who quietly anticipates every need.
A whisper in Simon's ear and he produced a charming squirt of Chantilly with 3 cake candles and conducted a chorus of 'Joyeux anniversaire', which I think Himself secretly loved even though his face turned the exact same shade of colour as the burgundy couch he was sitting on !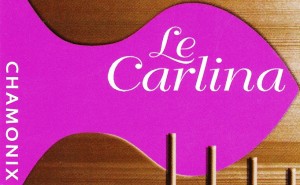 We are obviously not the only ones who like to return to this buzzy little gem as a fellow Brit took his leave with a cheery "see you next year, as usual", to which we added our own " à bientôt, Simon and Le Carlina"…and it will be well before next year!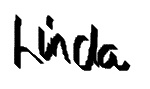 Le Carlina
76 avenue Michel-Croz
74400 Chamonix (France)
Tel +33 (0) 4 50 53 18 98
Spécialités Savoyardes, Fruits de Mer, Poissons Grillés
Text & photo copyright: Linda Scott.
Linda has recently launched a bespoke framing service. She creates beautiful frames made from natural wood with a number of different finishes and using high quality mountboard. Linda's frames are competitively priced and made-to-measure, creating an original finish for displaying your artwork, photos or memorabilia.
Take a look at her beautiful work on Linda Scott Photography and Encadrement.