Our Expat Mumpreneur interviews are so inspiring and motivating that we can't get enough of them. The latest expat mumpreneur to join our group is called Feng-I and lives in Lausanne. Feng-I is an expat mum-of-two from Taiwan and the founder of Chougarou.com, an environmentally-friendly and design-conscious online store of kids products (ages 0-4) designed to make our parenting lives easier.
We're very happy to announce that Chougarou.com is offering a special 20% discount on online purchases for all Geneva Family Diaries readers who will enter the code "GFD2013CH" at the check-out (type in your code online when asked). This offer is valid until May 31st 2013, so make the most of it !
My family and I
My name is Feng-I Wang and I'm originally from Taiwan (R.O.C.). I have got a rich cross-cultural background, which I believe inspired me to start my own business. When I finished college in Taiwan, I went to Paris for an MA program dispensed by Columbia University in New York. I then continued my graduate studies in French and this is how I met my now-husband. In 2002, we got married and I followed my husband – who is French and Swiss – to Lausanne. Our son was born in 2009 and our daughter in December 2012.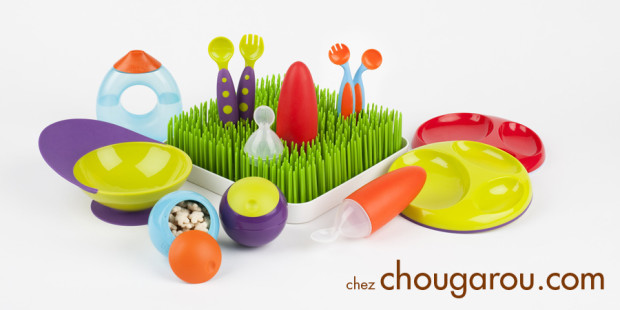 My business idea
I started working in Switzerland as a professional buyer in 2003. When my son was born I started – and I have to admit only from that moment on, but intensively so – to pay attention to everything related to baby gear.
For example, in 2009 all the baby bottles put on the market in Switzerland were not BPA-free. We bought the American brand Green-to-grow for my son but then it was very complicated to find the pacifiers to go with them. We found the German brand Nuk in Taiwan which suited us, but it was impossible to get them here in Switzerland.
Meanwhile, during my business trips around the world and holidays back to Taiwan, I discovered so many wonderful, beautiful and ingenious objects for kids that we don't have in Switzerland. I said to myself that they were definitely something new that I could bring to the market.
My background in Art Studies and our family's personal commitment to sustainable development put together were also crucial for the development of the idea of our online shop: Chougarou.com. The company Chougarou sàrl was founded in 2011.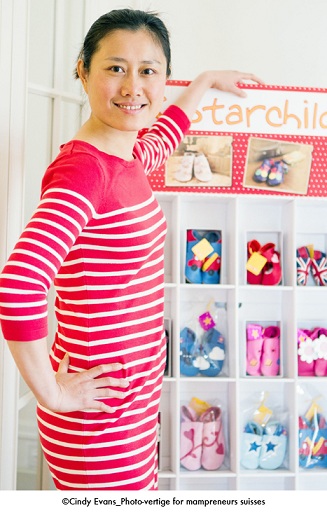 Chougarou.com is an online store for kids (0 to 4 years-old) selling everything parents might need from toys to kids clothes and skincare products.
I try my best to support sustainable development by choosing products that are ecological, organic and – where possible – locally produced. Chougarou.com also participates in the « pro clima » campaign by Swiss Post: when I send out the orders, the carbon-neutral consignments offset CO2 emissions.
I love design but – for me – design products should definitely be functional as well. Consequently, Chougarou.com aspires to offer items that are at the same time «Natural, Practical and Design».
This means that we select items made with natural or bio-degradable materials, and that all our textile and skincare products are organic and ecological. We also try to champion local production as much as possible while having the least impact on the environment. Last but not least, some of our products are made with plastic, but we do our best to choose them free of BPA, free of Phthalate and free of noxious PVC.
In terms of practicality, our products are selected to simplify parents' daily lives as well as to satisfy their love for design. I am proud to say that what's paramount for us at Chougarou.com is "the well-being of the children and the serenity of the parents."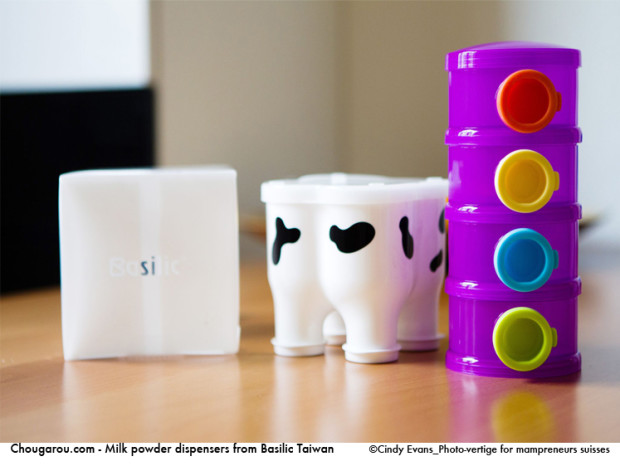 Our family's favorite spots in Lausanne
We live in Lausanne so this is the area we know best – and it's only 30 minutes by train from Geneva so you should check it out !
There are many places in and around Lausanne where it is pleasant to take a walk with children. As Lausanne is a small town, everything is actually within walking distance: we often walk to the beach in Ouchy where there is a merry-go-round and huge slides the children are crazy about, while my husband and I love to relax looking at the coming and going of boats.
When the weather is nice, our favorite spot is the Parc de Mon Repos with its lovely café La Folie Voltaire right beside the children's playground.
There is also the Mini train de Pully, which is like a small Swiss Vapeur Park and absolutely wonderful – being on the train right next to the lake is something the whole family enjoys ! Sometimes we bring our picnic blanket and sit on the lawn to eat the Italian ice-cream sold on the small kiosk next to the mini-train station.
One more thing: don't miss the delicious Sunday brunch at Yves Hohl in the pretty village of L'Isle (Morges region). Yves Hohl is a famous confectioner and his Sunday brunch is so popular that reservations must be made at least one month in advance, but it's definitely worth it !