Do you love gardening ? Are your green fingers itching to get started on this spring's new seedlings ?
If so, don't miss the "Fête et marché de printemps" at Prangins Castle on Sunday 5th of May 2013. From 10am to 5pm, keen gardeners and their families will be able to enjoy a plethora of free activities including guided tours in French and English, live music and a spring garden market to drop your trowel for !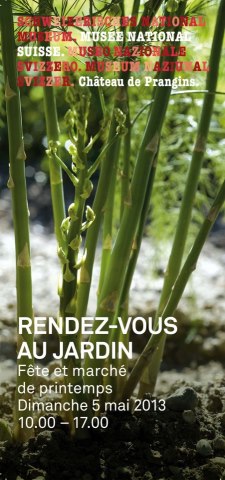 Here's a brief summary of what's planned for this "Fête et marché de printemps", for further details visit the Prangins Castle official website.
SPRING GARDEN MARKET
The Spring Garden Market sounds like a gardener's dream come true: you'll find anything from herbs & vegetable seedlings to ancient rose varieties and organic seeds from local Swiss nurseries, which is great if you're looking for some indigenous varieties (perennials etc.).
On top of this, there will be peonies, flower plants, fruit-trees and a selection of garden decorations made with recycled metal.
WORKSHOPS
«Un hôtel pour les insectes» in French, with the Jeune et nature group from pro Natura Vaud.
«Persil en pot» in French, a great workshop if you'd like to pick up some tips about déco recyclage.
PRACTICAL ADVICE
If you need to pick the brain of a gardening professional, you'll be able to discuss compost, insects and fertilizers with local experts.
The Nyon branch of the Société romande d'apiculture will also be available to answer any questions about caring for domestic honeybees, while a group of local midwives will be happy to share their knowledge of medicinal plants that can be useful during pregnancy.
GUIDED TOURS
10h30 «La santé des arbres fruitiers» in French, tour & workshop with Bernard Messerli.
11h, 13h, 15h «Vive la Reine» in French, visit the castle's apiary with the Société romande d'apiculture.
12h, 14h, 16h Discovery walk in French about local fauna.
11h, 15h «Promenade des Lumières» in French, with Nathalie Pellissier and Pamela Hunziker
14h «Prangins, côté jardin» in English, guided tour of the castle's gardens with Hester Macdonald.
Sunday 5th of May 2013
10am to 5pm – Free Entry
Château de Prangins
1197 Prangins