Geneva Grand Théâtre is synonym with great cultural shows for the whole family. The latest treat they have in store for families with young kids is Le Chat botté, an opera for children from age 5 by Russian composer César Cui, based on the famous tale by Charles Perrault.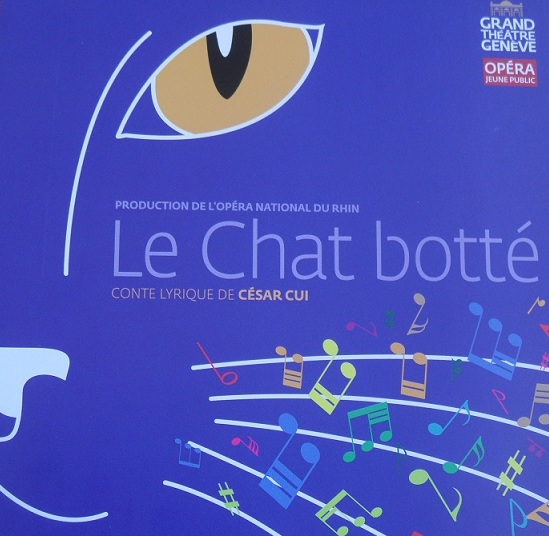 A couple of years ago Expat Husband and I took the boys to a magnificent children's production of "The Magic Flute" at the Grand Théâtre de Genève. We knew the opera but we were utterly swept off our feet by the grand costumes and set designs. As the curtain lifted, my boys' jaws dropped and pretty much stayed that way for the entire duration.
When I received the flier of Le Chat botté in the post a few days ago I was really excited they'd done it again: from the 11th to the 18th of May 2013 this lovely opera for children will transport you & the little ones into the magical world of music and fairytales. I can assure you it's an experience you won't forget !
Performances will begin at 7.30pm but they're not on a school night and the opera only lasts 50 minutes so you'll still be able to tuck them into bed at a reasonable time. Ticket prices start at 17CHF.
If you'd like to book tickets, here's some info about performance times and prices:
Version musicale d'Elena Langer
Production de l'Opéra national du Rhin
Grand Théâtre de Genève
11, boulevard du Théâtre
Tel. +41 22 322 50 50
Dates & Performance Times:
Saturday 11th May 2013 at 19h30
Friday 17th May 2013 at 19h30
Saturday 18th May 2013 at 19h30
Duration: approx. 50min.
Prices:
Cat A : 69.- / 52.- (Tarif Jeune / Etudiant)
Cat B : 49.- / 37.- (Tarif Jeune / Etudiant)
Cat C : 22.- / 17.- (Tarif Jeune / Etudiant)