If you're in Geneva this week and thinking how nice it would be to do a bit of stress-free Xmas shopping while keeping the kids happy (is that at all possible?!) why not join Thalia & Bubu at their Xmas showroom from Wednesday 5th to Saturday 8th of December 2012 ?
There will be photos with Santa, gorgeous decorations, a relaxed atmosphere and a sterling selection of pressies for little helpers aged 0 to 8 from some of the loveliest kids brands around: Children Inspire Design, Djeco, La Camille, Melissa & Doug, Ratatam, Seedling, The Original Metal Box Company and many more.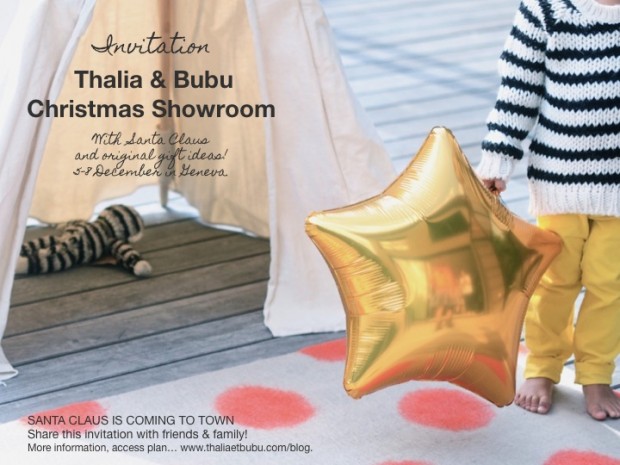 Santa is coming to town !
Don't miss out on this very special encounter with the most famous white beard in the world: on Wednesday 5th of December 2012 take your little muffins along for a photo with Santa himself, from 3pm to 6pm.
Your photos will be sent to you after the session, to be included in your Xmas cards or family albums.
ADDRESS:
10, place de la Taconnerie (see map)
Geneva
Ring the bell "Esteve", Thalia & Bubu will be waiting for you on the 1st floor.
Entrance is free for everyone so bring your friends and shopping-buddies along !
Opening Times:
Wednesday 5th December 2012: 11am to 7pm (Santa will be there from 3pm to 6pm only, he's a very busy man you know….)
Thursday 6th December 2012: 11am to 7pm  
Friday 7th December 2012: 11am to 7pm 
Saturday 8th December 2012: 10am to 5pm