With the release of Spielberg's 3D movie last year, cartoon-character Tintin has enjoyed a well-deserved revival. But did you know that there is a special connection between Hergé's hero and Geneva? I didn't, so I am quite chuffed to add this to my list of Swiss trivia for buffs.
It is in the 18th book of the Tintin series, "The Calculus Affair" ("L'Affaire Tournesol" in French) that the eponymous reporter comes to Geneva and Nyon in order to investigate the disappearance of Professor Calculus. Before designing this comic book, Hergé himself travelled to the area to take photographs and make preparatory sketches of various locations between Geneva and Nyon, making this area one of the few non-fictional locations that are represented in the Tintin stories. Indeed, some of the locations that appear in the drawings can still be recognised today.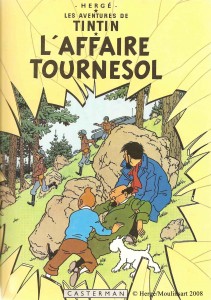 If you like the idea of following in Tintin's footsteps, visit the Nyon Tourist Office website to download the leaflet "Avec Tintin, sur les traces de Tournesol à Nyon", which will guide you through it.
Great snakes & crumbs everyone!