Carnival celebrations are so popular across Switzerland and France that it would be a shame to miss out on all the fun, so here's a quick run through of the main ones coming up during the month of February and March 2015.
During these street parties you can expect masked parades, Guggenmusiks (carnival marching bands), folk dances, confetti fights as well as street performances and many activities for children. It is also traditional to burn the Bonhomme d'Hiver as a rather harsh goodbye gesture to the winter season!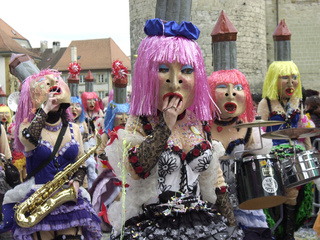 7th-22nd February 2015: Carnaval, celebrate carnival with your little ones at C l'Aventure indoor play centre in Annemasse (2-8 rue des chasseurs, 74100 VILLE LA GRAND, France). During their carnival celebrations there will be many themed activities for children, including face painting and mask-making workshops, balloon sculptures and much more. Don't miss their Carnival Party on the 17th of February with a parade of all children in their carnival costumes! Find out more about C l'Aventure in our previous post.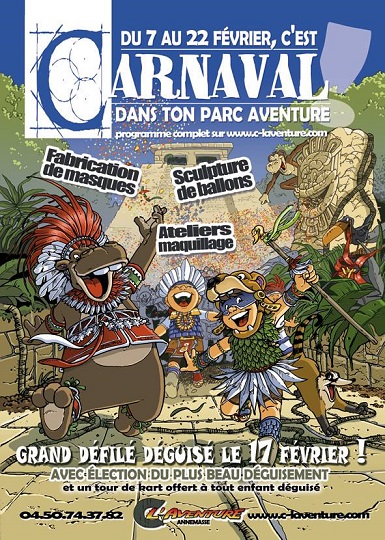 Tuesday 17th February 2015: Kids Carnival party at Vitam'Ludic indoor playcentre in Neydens (France) from 4pm until 5pm. Entry is 5 euros for children aged 1 to 3 and 10 euros for children aged 3+.
Tuesday 17th February 2015: Carnaval, carnival party at C l'Aventure indoor play centre in Annemasse (2-8 rue des chasseurs, 74100 VILLE LA GRAND, France) with a parade of all children in their carnival costumes! Find out more about C l'Aventure in our previous post.
20th-23rd February 2015: Payerne Carnival in Canton Fribourg. This is one of Switzerland's oldest carnivals don't miss the kids' masked parade on Saturday at 3pm and the grand cortège on Sunday at 2.24pm. FREE ENTRY.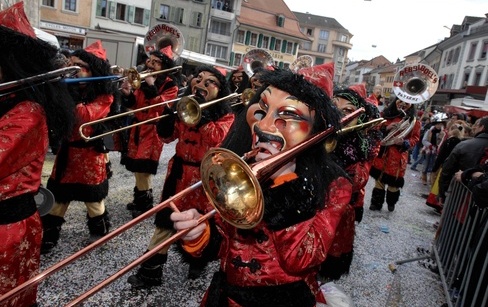 Saturday 21st February 2015: Carnaval aux Bains, you don't need to leave Geneva to celebrate carnival to the max with the 4th edition of the Carnaval aux Bains at the Bains des Pâquis. This year's theme will be BD (comic strips) so dress accordingly. The party begins at 3pm at the Place de la Navigation with the big brass band parade through the Pâquis neighbourhood up to the Bains, where there will be activities for kids, a giant jacuzzi and partying until the wee hours! FREE ENTRY.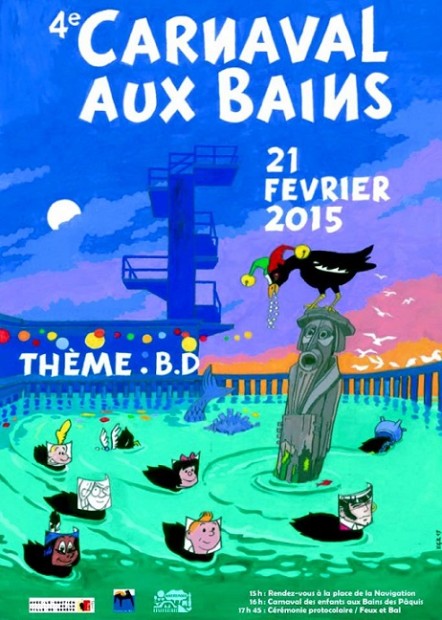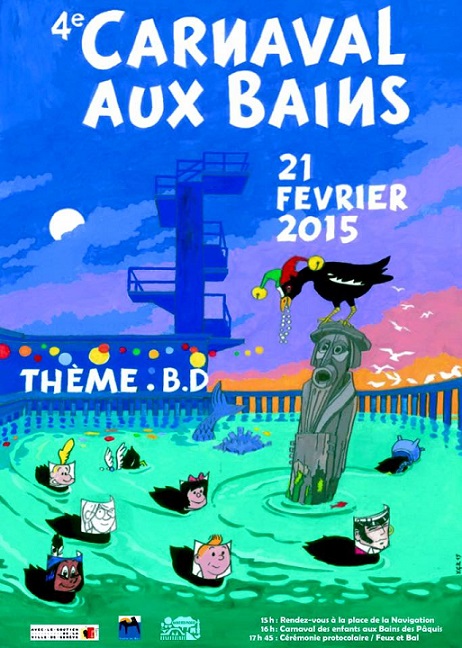 21st-22nd February 2015: Le Grand Carnaval de la Mère Noël, carnival celebrations for children at the Hameau du Père Noël in Andilly (France). There will be face-painting for the little ones, baby disco, story-times and yummy snacks in the company of Père Fouettard and la Mère Noël! Open from 2pm until 6pm, entry tickets are 10 euros for adults and 5 euros for kids.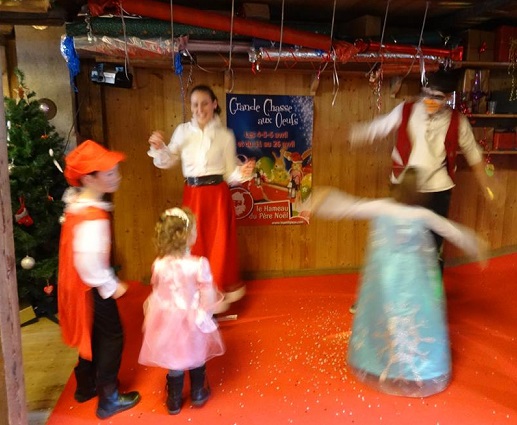 23rd February 2015: Basel Fasnacht, Switzerland's most famous carnival celebration with its traditional "Gugge" bands, flamboyant dress-up costumes, kids parade and live music – this is the time a Swiss city truly goes wild! The Basel Fasnacht is the largest carnival celebration in Switzerland, with over 20,000 masks filling the streets of the city with their carnival lanterns. Find out more about it on their official website. FREE ENTRY.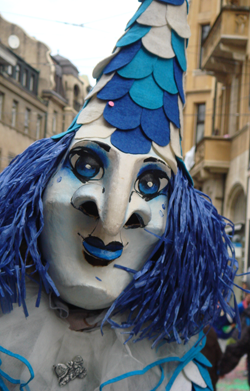 28th February-1st March 2015: Venetian Carnival in Annecy (France), a lavish, spectacular parade of beautiful Venetian masks throughout the charming little alleys of one of France's most beautiful cities, known as the venice of the Alps. You can read about last year's edition in our previous post.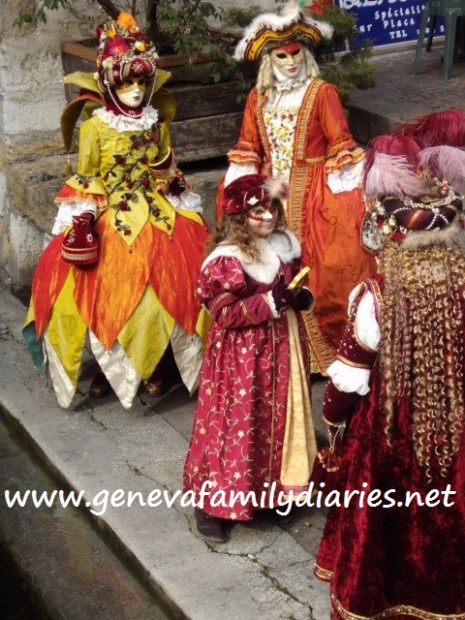 MARCH 2015:
5th-8th March 2015: Moudon Carnival, probably the wildest of them all as this year's theme will be….Brandons safari! There will even be a Jungle Bar…The kids parade takes place on Saturday 7th of March at 3.30pm.
6th-7th March 2015: Carnaval Vallorbe, offers a fun-packed programme for their 2015 edition with a "Vallorobe dans l'espace" theme, Zumba demonstrations, confetti fights and activities for the little ones. Click here for the full programme.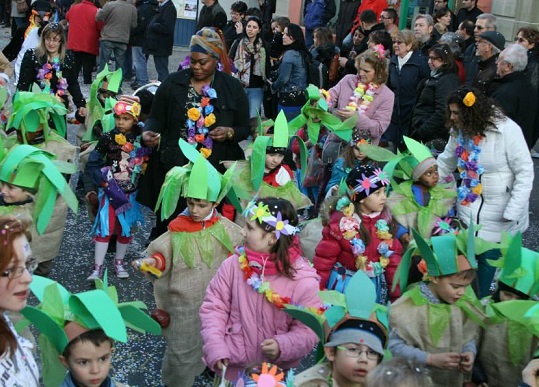 Saturday 7th March 2015: Carnaval de Genolier – a HUGE thank you to our reader Eva who kindly sent us information about this lovely village carnival in the pretty village of Genolier (VD). Eva highly recommends it (we haven't been yet but will definitely go this year!): the carnival begins with a parade of floats that have been decorated by the local school children, accompanied by Guggenmusik and dressed-up children of course! The parade ends with the burning of the Bonhomme d'hiver and a party in the local "salle de gym" (Salle communale du Gossan, Chemin du Cimetière) where there will be music, shows for children and food stalls. Eva's advice is to get there early, as later on the road from Nyon will be blocked for the duration of the Carnival.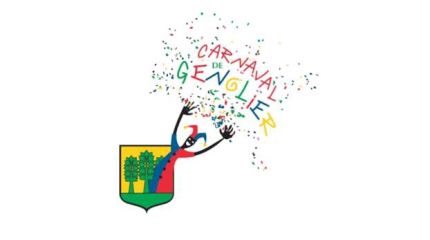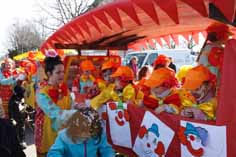 Saturday 7th March 2015: Carnaval de Divonne (France), starting at 1.30pm at the Halle Perdtemps with puppet shows for the little ones, activities and delish Italian food. The masked parade will start at 3pm, followed by games, more fun at the Espalande du Lac and a masked ball at 5pm. FREE ENTRY, remember to dress up your cheeky monkeys!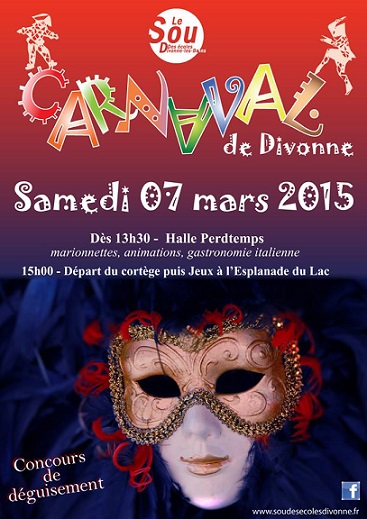 7th-8th March 2015: Brandons in Grandson, watch the Bonhomme d'Hiver being burned just outside Grandson's beautiful castle.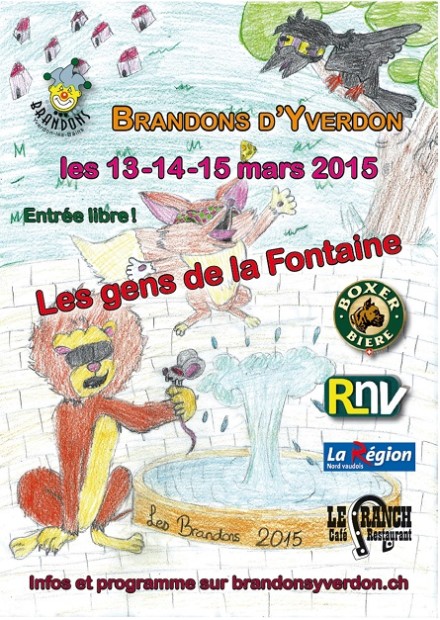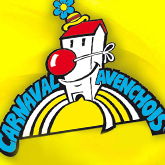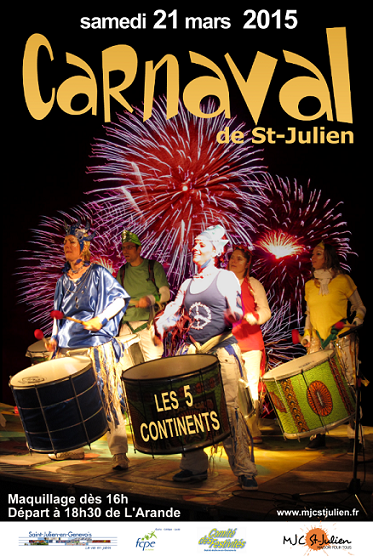 Practical Tips: dressing-up the children is great fun (if they feel like it, that is!) and it's all part of the Carnival tradition. Dress-up costumes, hats, confetti & face-painting kits are usually available from the beginning of February in the largest COOP, Migros, Manor, Carrefour (in France), toy stores (King Jouet, Maxi Toys, Imaginarium in Switzerland; La Grande Récré in France), but you can also find some princess costumes in H&M.
However, our top tip would be to borrow the kids' dress-up costumes from your local toy library (ludothèque in French – not all of them stock them but it's always worth checking). The choice is great and your little buttons can try them on until they find the one they like. You can then borrow the Carnaval costume for a few weeks for a very reasonable price!
Useful links: Toy Libraries in Geneva. Toy Libraries in Canton Vaud.