The Festival La Cour des Contes in Plan-les-Ouates is one of my favourite spring festivals in Geneva. For ten days, a number of exciting theatre shows, performed stories and workshops bring a new buzz to the city of Calvin – just when we've all had enough of winter and spring seems finally to be on its way.
This year's edition, which runs from the 2nd to the 11th of May 2014, will stretch from the Mysteries of the Alhambra to the ancient legends of Africa, Tibet and the Middle East. As always, children will be at the heart of this fascinating story-fest with "Les Bambinos" story times as well as the most adorable tales 'pour petites oreilles'.
And, if you're up for a late night, take your seats for the "Nuit d'Orient" on Saturday 3rd of May 2014 from 9pm to 1am at La Julienne in Plan-les-Ouates. Performers and musicians will bring to life the tales of «Les Mille et Une Nuits» as well as more contemporary stories of women and religious men.
If you're known to get a little bit peckish after hours don't worry – this Oriental-themed night will include mint tea & moreish mignardises orientales for all participants to tuck into.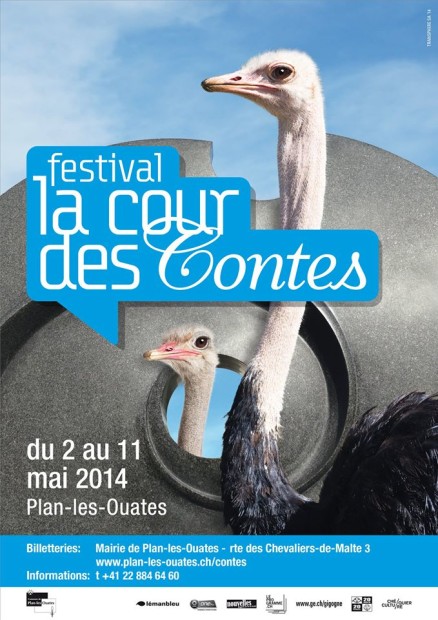 There are too many great events lined up to list them all in this short post, but you can download the complete programme here.
Tickets can be purchased online and at various sales points in Geneva and Carouge but there are a number of great events taking place at La Julienne cultural centre called "Côté jardin" that are free of charge, all you have to do is reserve a place in advance at 022 884 64 66 or lajulienne@plan-les-ouates.ch. These free events will include piano bar for adults and make-your-own-book kids workshops for ages 4 to 8.
Last but by no means least, the Festival La Cour des Contes has an exceptional line-up for very little buttons too with "Les Bambinos", a series of super-cute, fun shows in French, some of which are suitable from 18 months: "Petit poussin", "Perlimpimpin les p'tits poussins", "Le panier du pêcheur sent toujours le poisson!", "Un petit tour…et puis revient", "Mizou, le petit chat noir".
2nd-11th May 2014
Plan-les-Ouates, Geneva, Carouge, Lancy.
Download the complete programme here