Read the story behind the launch of Genevacakes, which has been kindly contributed by expat mum and founder Ana Moraleda, and take part in our fabulous Genevacakes giveaway !
***THIS GIVEAWAY HAS ENDED – ENTRIES WILL NO LONGER BE ACCEPTED***
One lucky winner will gain a place on a "Fondant cake decoration workshop" (value 360CHF, course duration 6 hours – the prize cannot be exchanged for the cash equivalent or for an alternative in any circumstances).
Read Ana's story and find out exactly how to enter our Genevacakes giveaway, which starts on the 18th of January 2013 and will end on the 31st of January 2013.
Ana's Story
My name is Ana Moraleda and I am the owner of Genevacakes, a business specialized in custom decorated cakes and supplies. This idea came to me when I started looking for the ingredients to bake a cake for my best friend's birthday party. Basically it was very hard, if not impossible, to find sugar paste in Geneva. The cake was so successful during the party that I decided that it was the right time for me to embark on a new business venture.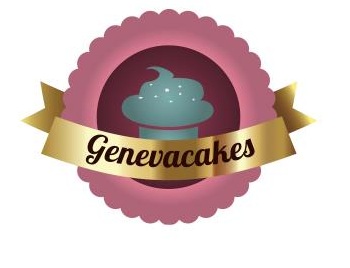 Before realizing this was really what I wanted to do, I had been doing my PhD in Biochemistry in Geneva. I was researching how cells decide to divide into other cells of different types, for instance, in some cancers or during the growth of embryos.  This was a truly fascinating activity to which I was fully dedicated day and night. Barely two weeks after the defense of my thesis I delivered my only child, and this arrival started to change my approach to many aspects of life.
I came to Geneva in 2005 following my husband, who works as a physicists at CERN. After one year in this city we had comfortably settled down and we were enjoying a social life with plenty new activities for us like skiing! We knew then that Geneva was going to be our home for many years and it was the time to commit to the long-term plan of doing a PhD.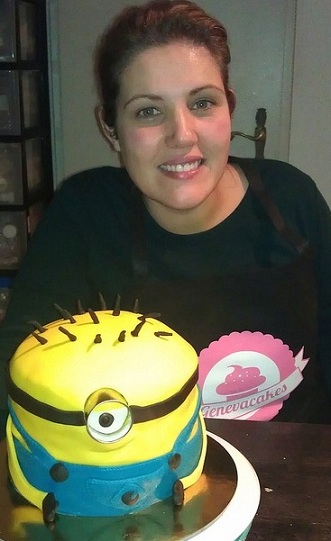 One day, while taking a rest from my laboratory work, I felt empowered while reading an article relating about how young entrepreneurs were succeeding in realizing their dreams through dedication and hard work, getting to the point of being able to earning their life with their truly vocational activities. I saw myself surrounded by pastry and cakes in a messy kitchen, sculpturing the last details of custom cakes.  This was a dream I had clearly no intention to follow at that moment. I enjoyed enough  baking cakes for my friends and my family.
When I started Genevacakes I had zero knowledge about how to run a business, marketing, e-commerce or what were the chances of such an enterprise to succeed.  I simply dived in at the deep end, and before realizing I was ordering hundreds of kilos of sugar paste, developing a web page and traveling around the world taking courses to perfect my cake decorating techniques. First border formalities were very difficult and there were times I had the feeling this dream was leading me nowhere.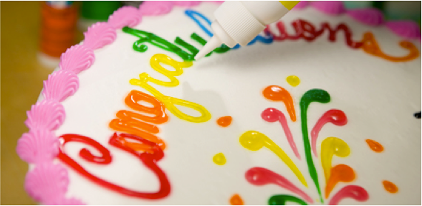 Luckily enough all the ingredients and supplies to bake all kind of cakes arrived, the web page started working and the first 'e-customers' arrived even before expected. Now I am teaching how to prepare and decorate cupcakes, cake fondant, royal icing, butter cream and cookies. I hope to start soon courses on cake pops and jellies. The courses take place in an atelier in Carouge. Students take home their creations if they do not eat them before. They even get a diploma!
Genevacakes Giveaway
The prize of this fantastic giveaway is ONE PLACE on a 6-hours "Fondant cake decoration course" run by Genevacakes, find out more about this course here. Learn some invaluable cake decorating skills and bring your beautifully decorated cake home along with a Genevacakes decorating diploma.
Prize value is 360CHF – the prize cannot be exchanged for the cash equivalent or for an alternative in any circumstances.
The giveaway starts on the 18th of January 2013 and will end on the 31st of January 2013.
All you have to do is follow these easy steps:
1. "Like" both Genevacakes and Geneva Family Diaries on facebook – if you're already a fan even better, you skip a stage. 
2. Leave a comment below to tell us what is your favourite cake in the world.
To make it even easier, just click on our giveaway widget below (you can log in with your facebook account or email) and let it guide you through these easy steps.
GOOD LUCK EVERYONE.
Terms and conditions:
This promotion is in no way sponsored, endorsed or administered by, or associated with, Facebook. We hereby release Facebook of any liability. Winner(s) will be contacted by email 48 hours after the giveaway ends. If you have any additional questions – feel free to send us an email!
PS. the above giveaway widget is installed only for the purpose of this giveaway, neither the system nor this blog will retain any of your personal details (email, facebook details etc.) after the giveaway ends.