There is a new English language playgroup in town for little ones aged 2 to 5! Unfortunately, my children are now too old to attend but I thought this might be useful for many expat parents out there, so here's some more info…
Founded by Isis, the Greenmouse Playgroup is a pre-school playgroup in English which takes place every Wednesday morning from 9.30am to 10.30am at the Espace de Quartier "le 99" in Geneva (Rue de Lyon 99).
The playgroup is open to all children – not just English native speakers – and remains closed during school holidays.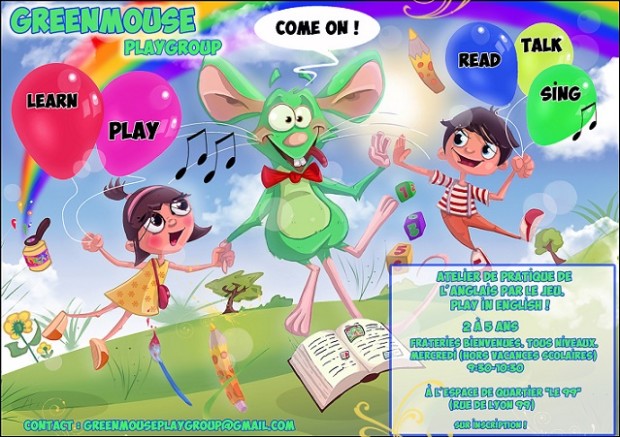 When a friend told us about the Greenmouse Playgroup, we contacted Isis who told us more about her initial idea and how she got started:
I developed the idea for this English playgroup after looking for an English class for my 3 year-old in vain. I figured that a "language exchange" through games and songs open to natives English speakers & learners with different English language levels could be really interesting for everybody.
I spoke about it to the people working at Espace de Quartier du 99 and they were really enthusiastic – within a short time they offered us a room so that we could get started!
We created an association and we now hold our weekly meetings as a playgroup (and not a class) because even though we have a subject we'd like to teach every time, we are very flexible and try to follow the little ones' needs by moving when needed, going outside if we can, and so on.
If you'd like to try one of the sessions at Greenmouse Playgroup, you can contact Isis at greenmouseplaygroup@gmail.com to regsiter – the first trial session is free!
Greenmouse Playgroup. English practice playgroup for kids from 2 to 5 years old. Play and learn with games and songs !
Wednesday mornings from 9.30am to 10.30am (except during school holidays)
Espace de Quartier "le 99" – ground floor
Rue de Lyon 99
Geneva
Contact Isis for more info about session prices etc.
Children remain under the responsibility of their guardian. Brothers or sisters are welcome even if they are outside of the age range.