The Am Stram Gram theatre in Geneva has come up with a fantastic idea to liven up those lazy Sunday mornings and I – for one – can't wait to try it!
Every Sunday morning in March and until the 6th of April 2014, La Brioche des Mioches welcomes children aged 5+ accompanied by their parents to a continental-style breakfast followed by a poetry & music show in French entitled "Peek-a-boo".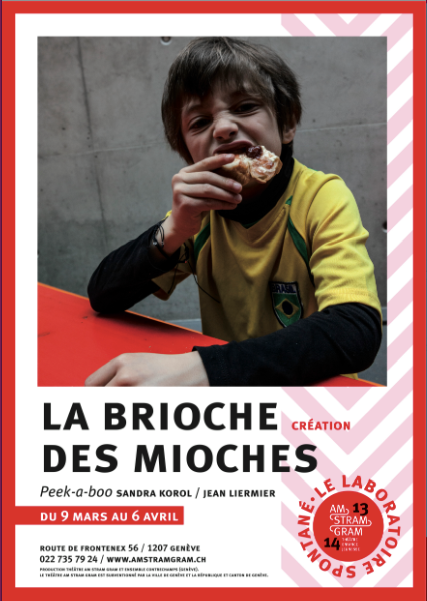 The family fun kicks off at 10am: take your little sleepy heads along for a scrumptious continental-style breakfast of hot chocolate, fresh fruit juices, croissants and an irresistible spread of tartines à la confiture, au miel et au Cenovis.
After breakfast, everyone takes their seats for the theatre show which begins at 10.30am. The Admiral and his friends will be causing havoc and elicit plenty of laughs as they stumble upon their fun adventures, accompanied by music and poetry.
"Peek-A-Boo" is a theatre show for children written by young Genevan author Sandra Korol commissioned by the Am Stram Gram theatre and directed by Jean Liermier, directeur at the Théâtre de Carouge.
Tickets cost 10CHF for children and 15CHF for adults, visit the official Théâtre Am Stram Gram website for more details and to buy your tickets.
La Brioche des Mioches – from age 5 (performed in French)
Every Sunday at 10am until Sunday 6th of April 2014
Théâtre Am Stram Gram
56 route de Frontenex
Genève
Tel. 022 735 79 24 
Mail : info@amstramgram.ch
This is NOT a sponsored post.