If you've been wanting to give Pilates a try without the long-term commitment that typically comes with a fitness club membership, the recently opened Little Bird Pilates studio in Gland may be the right place for you.
Offering a variety of classes from post-natal to a faster-paced "cardio-lovers" class and a flexible price scheme starting at 25 CHF per lesson, studio owner Johdi Woodford keeps her classes small (max. 8 people) and the atmosphere relaxed and friendly. And your first class is free, so there's nothing to lose by giving it a go.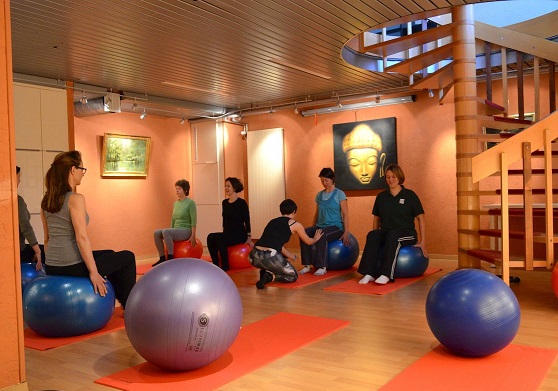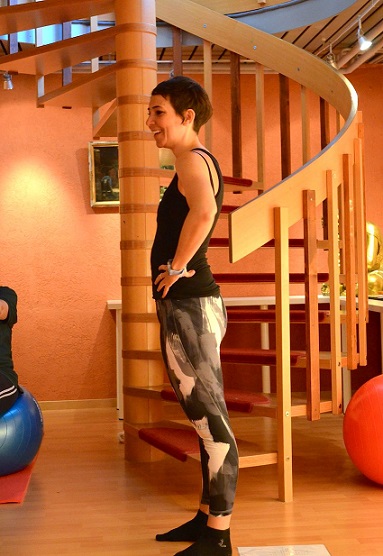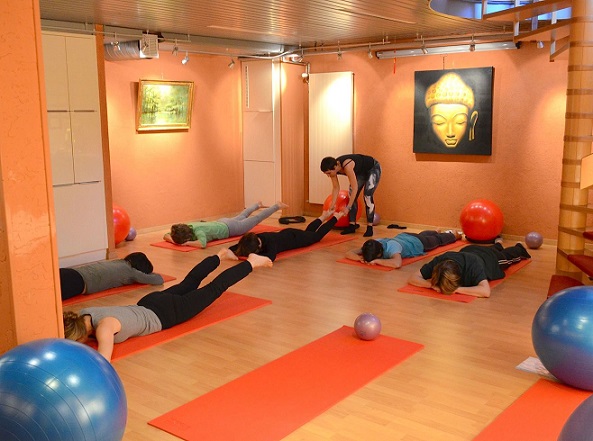 Last Thursday I dusted off my yoga pants and joined the 9 a.m. "Be good to your back and flatten your belly" class. It's been over a decade since I've done Pilates, but I immediately felt at ease thanks to Johdi's easygoing manner and the welcoming setting.
The participants were a mix of English and French speakers, so it was a bilingual class with Johdi switching easily between the two languages throughout the hour-long session.
From week to week Johdi varies the accessories used in this class; this time it was a "Swissball", a large inflated ball that helps develop balance and good posture as well as strength and flexibility. We did various exercises with the ball in a number of different positions: sitting on it, leaning back on it, elevating our feet on it and lifting it — not as easy as it might sound!
The class was challenging, fun and varied and I came away feeling like I'd really worked my abdominal and back muscles.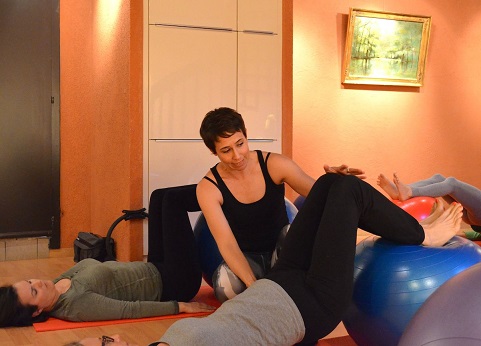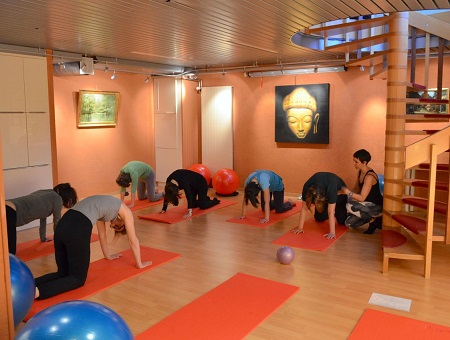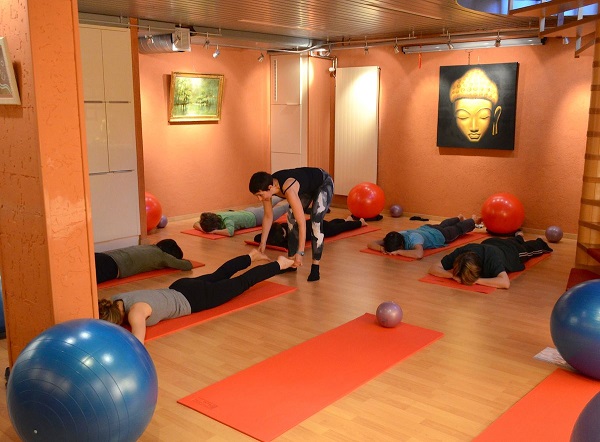 Originally from Zimbabwe, Johdi was a diver and marathon runner who started practicing Pilates 15 years ago following an injury. She started training as an instructor soon after the birth of her first child in 2009, and has been teaching since 2010.
She prides herself on the individual attention she gives to each participant and – as she told me:
People get personal attention as well as a no-nonsense approach to the method, which means they get good, quick results.
Little Bird Pilates currently offers the following classes:
Wednesdays 9:00 – 10:00: "Give it up for Switzerland" — uses the Swissball to improve balance, posture, strength and flexibility; also open to pregnant women.
Thursdays:
9:00 – 10:00: "Be good to your back and flatten your belly" — overall workout for strengthening and lengthening the whole body.
10:15 – 11:15: "Mamma mia!" — postnatal classes especially for new mums; babies also welcome.
12:15 – 13:15: "Stand up for Pilates" — lunch break class designed to give "stressed-out office workers a chance to let off some steam".
19:00 – 20:00: "Pilates for cardio-lovers" — faster-paced class to work your body from the inside out.
Monday classes will be added soon, including another "Be good to your back" class at 9:00 and "Stand up for Pilates" at 12:15.
Other days and times are also possible, including private and semi-private lessons.
Johdi is offering a 5% discount to all Geneva Family Diaries readers when they sign up for one of the two current subscription offers (5% off CHF 140 for 5 sessions in 2 months, or 5% off CHF 250 for 10 sessions in 3 months).
For further information and to sign up for a free first lesson, contact Johdi at 078 708 39 38 or johdiwoodford@yahoo.com.
Rue du Perron 2B
1196 Gland, Switzerland
Text copyright Laura Vidale. Photo © Laura Vidale.
Laura Vidale
Originally from New England, Laura works as an editor and publications coordinator for an international civil engineering association.
She first fell in love with Switzerland while traveling in Europe as a university student. After completing her degree in French, mathematics and geography she was able to return to the Geneva area, where she has resided for over two decades, and is still enamored with to this day.
In her free time she can often be found walking in the Versoix forest with her two dogs, pursuing her obsession with local seasonal produce, enjoying a film and glass of wine with her techie husband, and exploring the cultural and gastronomic attractions of the Geneva – Nyon region.