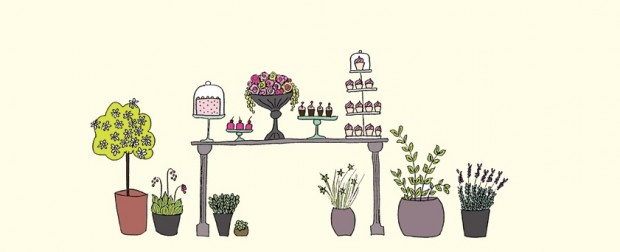 Do you love flowers, gardening and delicious cupcakes? If so make a note in your diary of this coming weekend's outdoor event in Trélex, near Nyon (Canton Vaud).
On Saturday 16th and Sunday 17th of June, renowned florist Rémy from Jaggi Garden Centre in Trélex will host an open-house of his flowers and plants business accompanied by a pop-up café run by The Heidi Bakery.
Rémy and Heidi invite everyone to come along and see the beautiful Jaggi Garden Centre, stock up on plants, flowers, seeds for their gardens or balconies and then purchase some delicious cakes from their outdoor café.
It is going to be a visually beautiful event and well worth a visit, so remember:
Saturday 16th – Sunday 17th June 2012 from 9.30am till 5pm
R.JAGGI Garden Centre
Route de Grens 1
1270 Trélex
for further info you can call +41 (0) 22 369 11 66
Illustration credit ©heidicrafts
This is not a sponsored post. We were informed of this event and thought it sounded like an excellent idea, this is why we decided to share it with you!