Spring and Summer are definitely the best seasons to enjoy Geneva to the full. Gorgeous weather, longer days stretching into breezy summer nights and a host of fantastic outdoor festivals uncover the city's cool and laid back charm.
One of Geneva's best summer festivals is, without a doubt, the open-air cinema organised by CinéTransat. The event is not just an outdoor screening of some of the best-loved movies in film history but, most importantly, a very relaxed and fun-filled get-together.
People are invited to bring their own pic-nics and refreshments, a few blankets (although some people have been known to bring their living-room furniture!) and enjoy the amazing views over Lake Léman. As the sun goes down and night sets in, the audience can join in a bit of karaoke before the movie begins, underneath the perfect canopy of a starlit summer sky.
This year's edition of CinéTransat will take place from the 12th of July until the 19th of August 2012 in the Parc de la Perle du Lac, with a special première & paint party starting at midday on the 2nd of June at the Parc la Grange.
We couldn't wait to find out more so we interviewed Dan Acher, chief organiser of CinéTransat (and true Genevan!).
Geneva Family Diaries: Thanks for taking the time to meet us! Please tell us how it all began: what inspired you to set this amazing event in motion?
Dan: I was in Sydney, Australia, and I spent a great night-out at an open-air movie screening. The atmosphere was so friendly and relaxed that I thought to myself: "How can I replicate this in Geneva? How can I organise something similar but at the same time encourage the audience to join in and connect with each other?" I also wanted the festival to be free of charge for the public.
I was hoping to organise an event which would be quite different from your usual cinema experience, where noises are shushed and people don't interact with each other, despite being in a group. I was aiming to create a "shared", sociable event where people could enjoy a good movie but also the company of others.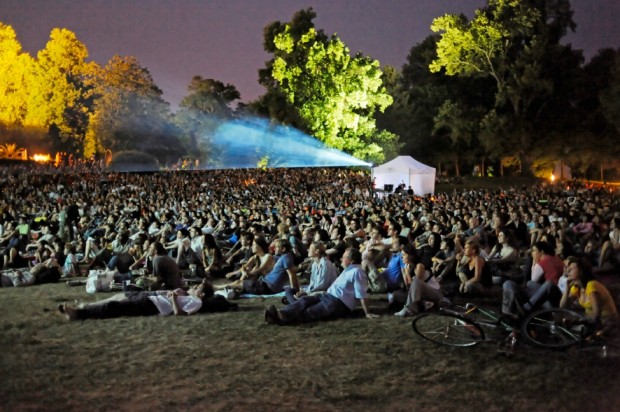 GFD: Is humour an important part of CinéTransat's ethos?
Dan: Absolutely! Humour is at the very core of CinéTransat! It's what inspired us to organise special theme nights, where people can dress up, sing karaoke or dance Bollywood-style. Humour is what brings everyone together and makes our cinema nights so "interactive".
Last year for instance, we challenged our audience to come up with short, 2-minute "clone" clips of the movies we were showing, using whatever they had available: puppets, cardboard cut-outs, ski goggles, you name it! The videos had to be uploaded on YouTube and then onto our Facebook page. The results were fantastic and the best ones were shown on our big screen and website (click here to watch them).
In French this is called to "suéde" a movie and it was a great success!
GFD: How do you choose your movies?
Dan: Around February time we ask the people following our Facebook page & website to vote for the movies they'd most like to see. This year 3,500 votes were cast for a total of 1,350 movies.
From this point we have to narrow it down to 25 movies, so we'll look at which ones are the most voted, then we apply other criteria: which ones are the most uplifting, have their heart in the right place and a positive message, etc. It's very important for us to make a selection that will touch the hearts of our audience and, hopefully, bring a smile to their faces.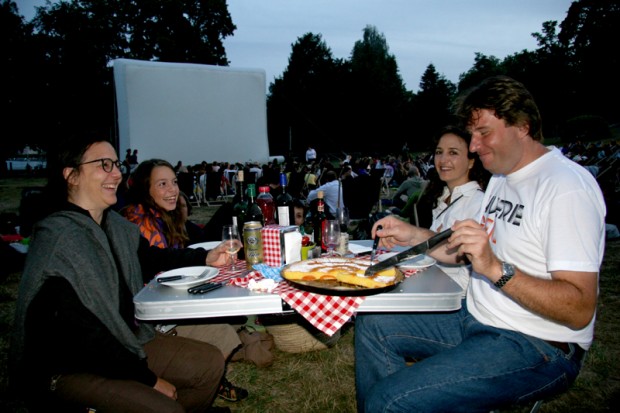 GFD: We read on your website that CinéTransat is committed to involving young teenagers from troubled backgrounds, please tell us more about it.
Dan: Yes, every year we employ 50 teenagers that are being monitored by social workers for various reasons. With the help of their social workers, they take responsibility for working with us, for instance setting up the screen, as well as the sound and projection equipment. We have to set it all up and then take it all down after each screening so it really is a lot of work. It's a very positive and affirming experience for them.
GFD: Do you think expatriates who don't speak French can enjoy a night-out at CinéTransat, as well?
Dan: Absolutely! CinéTransat is very popular with expats in and around Geneva. Movies are shown in the original language with French subtitles, so if a movie's original soundtrack is in English (and a majority of our films are), our foreign audience has no problem at all. Cartoons for children, on the other hand, are always shown in French.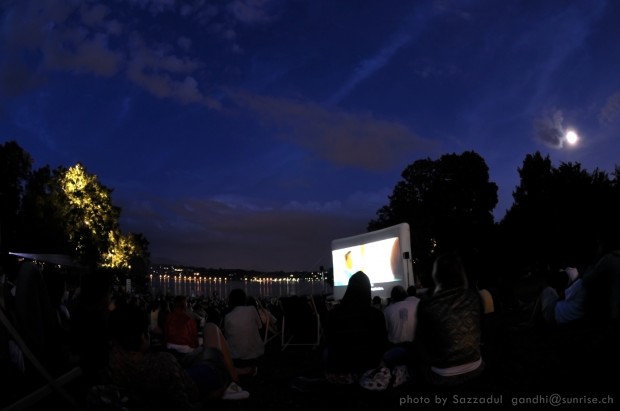 GFD: Do you have a special and most-treasured memory of CinéTransat that will stay with you forever?
Dan: I have so many! The main one would have to be our very first opening night. We were quite nervous because we had done everything we could but had no idea if anyone would show up. When I saw so many people turn up, fill the park's ground and laugh together as they were watching "Little Miss Sunshine" I felt utterly content: even if CinéTransat had stopped there, it would have been worth it. Thankfully it didn't and we're still here!
I also have very fond memories of people walking home still humming the theme song from the Japanese anime Totoro, or cycling home along the lake with the red lights on their bikes shimmering into the darkness.
Some of our fans told us they book their summer holidays so that they won't clash with our dates. A couple who first met at CinéTransat wrote to tell us that they got married, so we're proud to be the perfect place to find true love!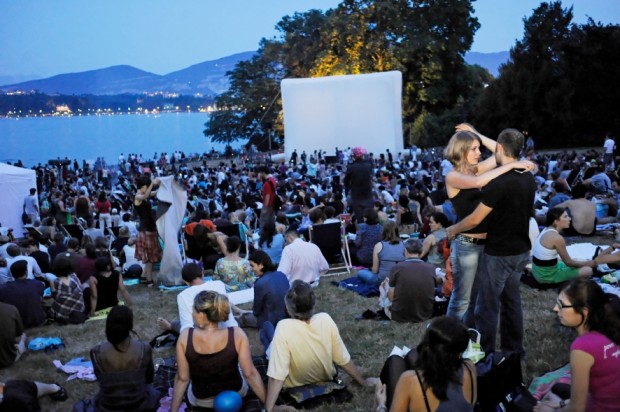 GFD: Thank you so much for your time, we cannot wait for CinéTransat to begin!
Dan: You're welcome!
photos credit and copyright CinéTransat
PRACTICAL INFO:
CinéTransat: 12th July – 19th August 2012  Parc de la Perle du Lac.
Check CinéTransat's Facebook page for the full listing of this year's movies.
Entry is FREE, you can bring your own blankets or rent one of their deckchairs for 5CHF.
You can also buy a recycled cardboard armchair for 5CHF and bring it back with you next time.
Bring your own food, refreshments and even alcohol but please bear in mind that all the safety rules of Geneva's parks must be followed (no fires, no BBQs, etc.). A buvette (refreshments bar) is also available on site offering drinks, snacks etc. at affordable prices.
In case of rain or bad weather please check their website www.cinetransat.ch, if the screening is cancelled you will find an announcement on the website at around 7pm (at the latest).
Children are very welcome but please check the exact age restrictions for each movie as the Brigade des Mineurs can conduct random checks. However, there's no age limit for the pic-nics starting in the afternoon!