One of the things I missed the most when we first moved to Geneva was all the healthy snacks available for children in the UK. My little ones loved them and I knew the brands weren't loaded with sugar or other nasties.
It took me a while (and a lot of label-reading in French!) to find some alternatives here, but I have to admit my boys weren't always keen and I had to give into a chocolate crêpe more times than I would have liked.
However, the good news is that a few months ago I came across some delicious dried fruit packets by Ou bien?!, which are organic, sugar-free and locally grown.
My little ones gobbled them all up in seconds – even my middle boy, who's usually more diffident towards new foods. When I read that each 30 grams packet contains the equivalent of 2 fresh fruits, I punched the air like an athlete on the finishing line!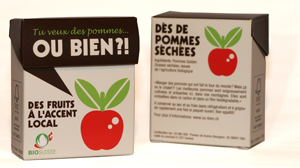 Ou bien's healthy snacks are made with locally grown, Bio Suisse certified organic apples and pears, which have been cut into small pieces and dried. Nothing is added to it: this is pure organic fruit on-the-go you can always carry in your bag!
The small cartons are packed by the "Fondation Foyer Handicap" in Geneva and the packaging is made with FSC certified recyclable carton.
I was so impressed with Ou bien?! and their handy delicacies, I contacted them for an interview. Here's what French mumpreneur & co-founder Florence Ceysson-Thiriet had to say about Ou bien?!, their values and the launch of their company.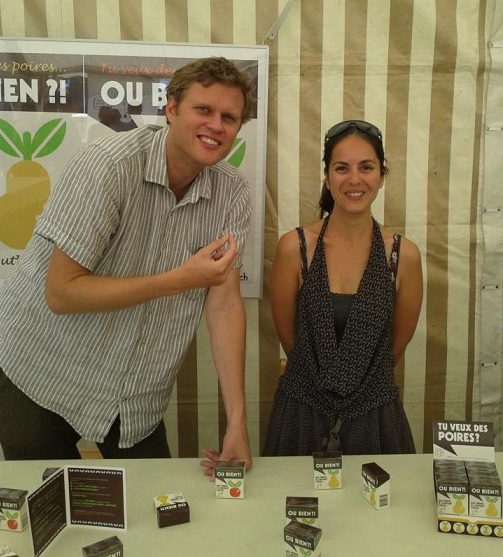 GFD: Please tell us a bit more about yourself, your fanily and your business partner Wouter. 
I am a 37 y.o. French mum of one, and I have been working in Switzerland for nearly 10 years. My little boy is 6 years-old. My business partner Wouter is Swiss, but of Dutch origins. He is 38 years old and the busy father of 2 lovely little girls aged 5 and 2.
Before launching Ou bien?! we both worked in web development: Wouter is the founder of a well-known job search website in Switzerland. We share the same values and one day we decided to work on a more concrete project involving food. Our dream was to offer an healthy and tasty snack in Switzerland that would appeal to children and adults alike.
GFD: How was Ou Bien born ?
Looking for a tasty and healthy snack for our children wasn't easy at all. We wondered why all the products offered by the shops were full of preservatives, sugar and added flavouring – on top of this, we realized that even the most basic fruits came from very far.
Wouter and I started discussing this and we realized that we were not the only parents thinking this way, so we decided to go ahead with a new product which met our expectations. And here we are now !
Well, it sounds easy when I tell it like that, but the launch came after a lot of work and investigations, discussions, etc.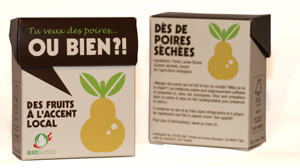 GFD: What are your values and most importantly where can people find your products ?
First of all, we have a strong commitment to nature and our local community: we're not perfect but we try to do the best we can and keep our products logical and simple …. which is often very difficult!
We're lucky to be working with wonderful people who share the same values: our fruit farmers and suppliers, as well as all the people involved with the "Fondation Foyer Handicap" in Geneva who package our products.
Keeping this philosophy in mind, makes it very rewarding to go to work every day. We also love to hear from our clients that OU BIEN ?! are the product they were waiting for.
You can find a complete list of our different point of sales on our website: ou-bien.ch.
GFD: Do you have any special initiatives or projects planned for the summer ?
We are working hard to launch a new product, which will be even more tasty & delicious but that's a surprise !
GFD: What are your favourite places in Geneva ? Any secret tips ?
In the summer I love to walk along the lake, especially the Jardin anglais, sunbathing at Genève-Plage or walking around the old town with my family.
My son loves going to the BimBaDaBoum summer festival, he always has a lot of fun and so do I ! Obviously, the essential summer events like "Ciné transat" and the "Fêtes de Genève" are also an opportunity to spend a nice family evening.
When the weather is colder, the Natural History Museum in Geneva is also a great place for adults and children.
Des fruits à l'accent local
POMMES: dés de pommes bio séchées
POIRES: dés de poires bio séchées
ruelle du Couchant 6
1207 Genève
T: 022 – 737 15 00