On your marks, get set…if your children are aged 9 to 15 and they love sports there's a very exciting (and free!) event coming up at the Musée Olympique in Ouchy from the 14th – 18th of October 2012: the 32nd Semaine Olympique.
There will be over 40 free sports activities to choose from including fencing, taekwondo, judo, American football, ice-hockey, capoeira and even cheerleading ! If you have younger children as well, you can bring them along to try a bit of skiing (from age 3) or face-painting.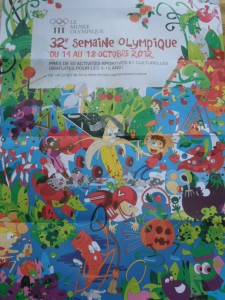 As the objective of this initiative is to promote sports and healthy eating amongst youngesters, there will be cookery workshops as well focused on preparing delicious meals with vegetables and fruit.
If your children are very much into skiing, on Wednesday 17th of October at 2pm they will also be able to meet Croatian skier Ana Jelušić and ask her about her participation to the Olympic Games in Salt Lake City when she was only 15.
As mentioned above, all sports activities are free of charge. Click on the Museum's website to download the registration form (click on "inscription" at the bottom of the page) and mail it before the 5th of October 2012. Alternatively, you can also register directly at the Museum's welcome desk on the 14th of October when the 32nd Semaine Olympique will begin.
The Olympics Week will take place on the grounds of the Musée Olympique and on board the bateau "Helvétie" in Ouchy, so get your free passes now !