With more (Michelin) stars than the Milky Way and an array of delicious auberges, the area around Geneva is a delight and temptation for all expat foodies.
Unfortunately for us (but not our bank account!) we can't manage to dine out à deux as much as we'd like so our favourite restaurants list is still quite short, but thanks to the advice of gourmande-in-chief Linda we know where to book when we get a night off from the little rascals.
This is a very short selection of exceptional restaurants in the area, ideal for a romantic night-out or a special occasion, and it's not a sponsored post but our genuine opinion. To read our previous restaurant reviews, click here. We'll soon publish more info about our favourite family-friendly restaurants so stay in touch !
The sixteenth century stone manor-house of the Domaine de Châteauvieux rests on a gentle hill amongst the vineyards of Satigny. We went there last year to celebrate an anniversary and loved everything about the place: the beautiful setting, the elegant yet warm, intimate atmosphere and the absolutely delectable food.
I wish I had brought my camera to capture the exceptional, beautifully laid-out dishes we had, but unfortunately I didn't. What I have, though, are the most lush memories of a velvety homard bisque, melt-in-the-mouth veal fillet and delicately scented marshmallow à la violette. It was definitely an anniversary I'll remember forever !
The Domaine de Châteauvieux has 2 Michelin stars and 19 GaultMillau points (very well-deserved, may I add). For a special night you can even book a table right in the middle of the chef's kitchen and see the magic happen just before your eyes.
The chef and restaurateur extraordinaire Philippe Chevrier owns other establishments in and around Geneva: the Café des Négociants in Carouge, the steamboat "Savoie", the Relais de Chambésy, the Café de Peney in Satigny, the Restaurant Le Vallon in Conches and the bar-lounge Au Phil du Temps in Geneva.
Unfortunately, we haven't been able to try them all but Linda gave the Café de Peney full marks !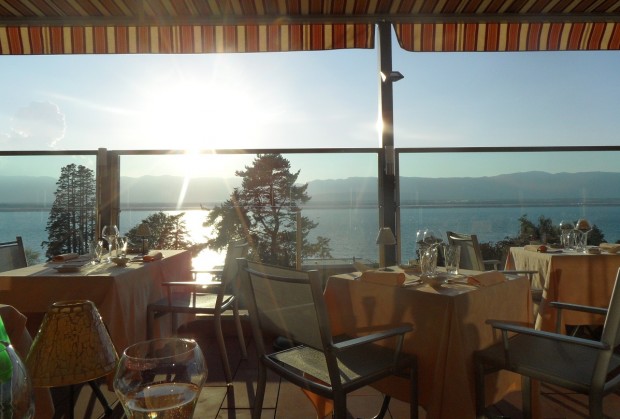 Le Floris restaurant is located in the picture-perfect lakeside village of Anières and has amazing views over Lake Léman, which you can enjoy from their panoramic terrasse.
Le Floris is another mouth-watering destination for expat foodies: French chef Claude Legras is one of only 5 chefs in the entire Suisse romande who've been awarded 2 Michelin stars. The menu is a celebration of fresh seasonal produce prepared with flair and timeless elegance. This time I did have my camera, so I'll let the images do the talking…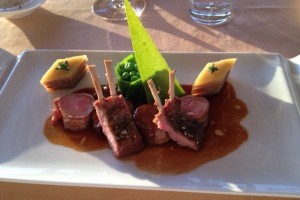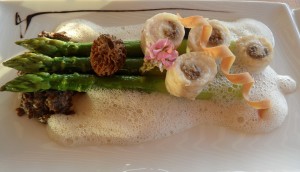 At the end of the meal, I couldn't resist their trolley of home-made sweets !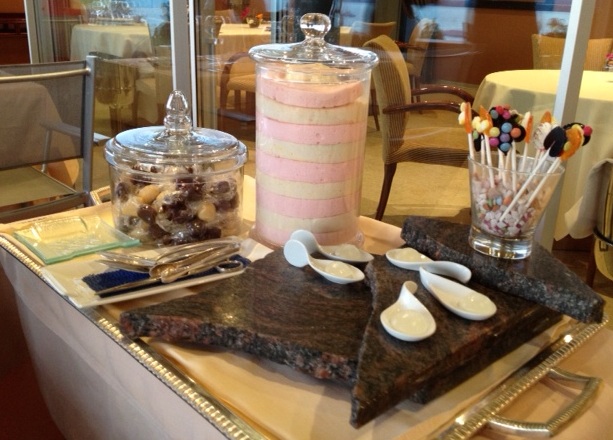 Rasoi by Vineet is the Geneva outpost of chef Vineet Bhatia, the culinary master who gained Indian cuisine its first Michelin star in 2006 at the Rasoi restaurant in Chelsea (London).
The Rasoi by Vineet is part of Geneva's Mandarin Oriental on Quai Turrettini, so it's great for a bit of sightseeing too. When we went there last June we had a lazy stroll along the Rhône River and then an apéritif at the Bateau-lavoir before sitting down for our meal.
The Rasoi has a cozy, relaxed atmosphere (I'm not one for pompous dining) and the food is a feast of authentic Indian flavours blended with exceptional originality and creativity: the seafood and chicken tikka is scented with a touch of gunpowder tea, indian curry spices are accorded deeper notes with a dusting of cocoa powder, and desserts are equally imaginative and delicate.
Again, I didn't bring my camera with me but even if I did, I doubt I'd been able to resist long enough to take a snap !
Restaurant du Parc des Eaux-Vives
A more recent and delicious evening was spent by Linda at the Restaurant du Parc des Eaux-Vives. Here's her review:
"The restaurant is located within the Parc des Eaux-Vives and has lovely view across to the Jura. A nice change to see our side of the lake from 'the other side' !
We ate on the 1st floor terrace – the so-called summer grill à l'étage and we enjoyed the following: Tarte fine à l'olive noire, vitello tonnato au thon fumé, Courgettes confites et pousses de roquette, which translates as "Thin tart with black olives, vitello tonnato with smoked tuna Confit courgettes and rocket shoots" – it was de-lic-ious !
This was our second visit – the first was for a christening party. During the 2nd visit there was a small wedding party, but they seem to blend these special occasion guests with private diners very well."