I've been meaning to give virgin coconut oil a try for a long time
so when my middle son asked me to bake some cookies together this weekend, I thought the time was right to get it out of our kitchen cupboard.
Recently rehabilitated as one of the healthiest cooking oils in the world, virgin coconut oil is an excellent source of medium chain fatty acids (MCFAs), especially Lauric Acid, that are proven to reduce cholesterol and antioxidants, which help fighting off cell-damaging free radicals.
Virgin coconut oil is also a good butter-substitute for lactose intolerance diets and is often used in vegan cooking too. On top of this, if you go for organic virgin or extra-virgin coconut oil, you'll be sure that no chemicals or solvents will have been used during the extraction process.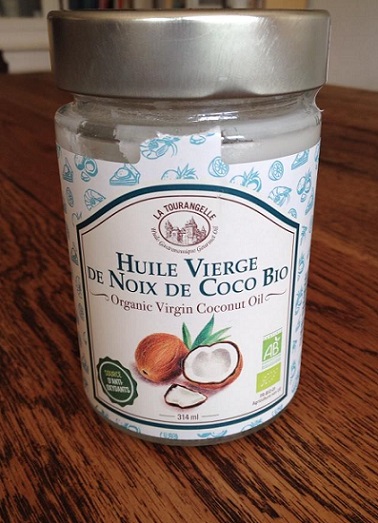 But apart from its health benefits, virgin coconut oil has a wonderful yet subtle nutty flavour, which allows you to reduce the sugar in your recipe without losing out on flavour. On the contrary, your bakes gain such a tropical flare that's very hard to resist!
As it is solid at room temperature with a thick consistency, virgin and extra-virgin coconut oil can substitute butter one-for-one in most recipes, so this is what my boy and I did on this first attempt: we adapted our usual recipe
for oatmeal cookies and simply substituted the butter for the same amount of organic virgin coconut oil.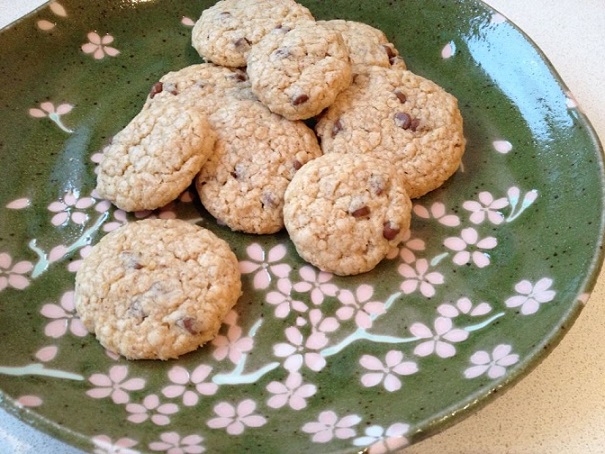 OATMEAL, CHOCOLATE CHIP & VIRGIN COCONUT OIL COOKIES
125 grams  virgin or extra-virgin coconut oil
90 grams of brown sugar
1 teaspoon of vanilla essence or, alternatively,  "vanille Bourbon en poudre"
1 egg
135 grams of plain flour or, for a healthier alternative, "farine mi-blanche" which contains around 4% to 10% wheat bran.
1 teaspoon cinnamon powder
1 teaspoon baking powder
85 grams oats
200 grams chocolate chips. For a healthier alternative, use raisins instead.
1) Preheat the oven to 180°C /350°F and line two large baking trays with baking parchment.
2) Put the virgin coconut oil, sugar, vanilla and egg in a bowl and let your little one help out with the whisking – you can use an electric whisk, in which case the little chefs will need a helping hand, or a balloon whisk. Work it until smooth and then add the flour, cinnamon, baking powder and mix until well
combined.
3) Your little gourmands can put the finishing touch by tipping in the oats and chocolate chips, and giving a good stir.
4) Now, for the best bit, take a small amount of cookie dough, form it into a ball and place it on the baking sheet. Get your little helpers to give it a bit of a squash down with their hands for that perfect cookie shape, they'll love that!
5) Bake in the oven for around 10 minutes until golden. Remove from the oven and leave to cool for a few minutes, if you can manage, before chowing down the lot in a nanosecond.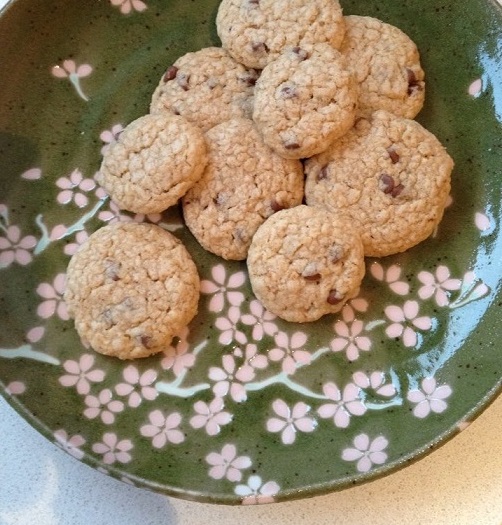 The recipe makes approximately 15 to 20 small cookies that can keep for up to 4 days in a airtight container, if they manage to last that long, that is!
The best thing about this recipe is the fact that the coconut oil's sweet aroma, combined with the natural vanilla powder, cinnamon and chocolate chips, give the cookies such an delicious, intense flavour that you can almost halve the amount of sugar you'd normally use in a traditional cookie recipe, with no complaints from anyone.
As the cookies started to bake, the virgin coconut oil took on a very bright shine and I was afraid they would just melt into one another and lose their shape but they didn't, they remained perfectly round and crunchy, just as we like them.
Do you have other easy recipes with virgin coconut oil that your children love? If so, please let us know in the comment box below. Happy baking!