Don't miss Annie the musical in Geneva if you love nothing more than an all-time theatre classic, which is fun, adorable and perfect for the whole family.
Annie the musical is coming at the Casino Theatre (42, rue De Carouge) from Saturday 2nd of March to Sunday 10th of March 2o13, so book your tickets now to make sure you won't miss it.
Performed in English by the Simply Theatre Academy, this heart-warming rags-to-riches story of plucky young Annie's adventures is a show the little ones (and their mums!) will love.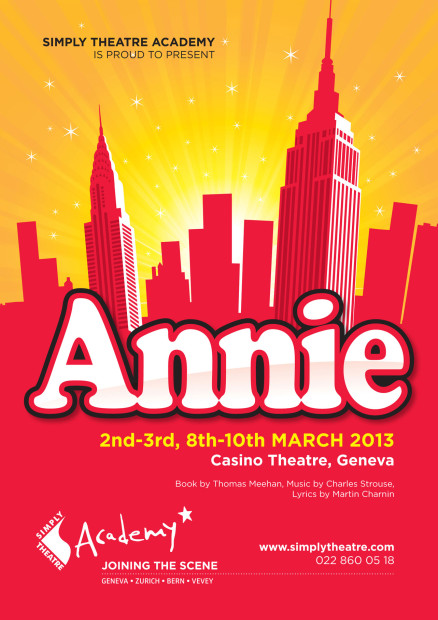 You'll probably know the story already, but here's a short summary from the Simply Theatre Academy website:
Living miserably in the New York City Orphanage run by the cruel, embittered Miss Hannigan, Annie is determined to find her parents who abandoned her years ago. In adventure after adventure, Annie foils Miss Hannigan's evil machinations, befriends President Franklin Delano Roosevelt and charms the hearts of a new family in the luxurious home of billionaire Oliver Warbucks.
Before you start humming away to the tune of "Tomorrow" or "It's A Hard Knock Life", make sure you book your seats for one of the following performances:
Saturday 2nd March at 6.30pm
Sunday 3rd March at 11am and 3pm
Friday 8th March at 7.30pm
Saturday 9th March at 2.30pm and 6.30pm
Sunday 10th March at 11am and 3.00pm
Ticket prices range between 40-20CHF for adults and 30-10CHF for children. For full details and online booking facility visit the official Simply Theatre Academy website or contact them by phone on 022 860 05 18.
Image copyright Simply Theatre Academy. Some text excerpts have been shared from the Simply Theatre Academy website.