Xmas is fast approaching and sometimes I feel in need of inspiration to find gifts for the girls in our family (and – being an extended AngloItalian family – there are lots…of all ages !) so I was really excited when I received the invitation to a special Mac & Fred champagne evening, which will take place on Thursday 6th of December 2012 from 6pm to 11pm in Commugny (VD).
If you're looking for gift ideas, please come along too: the invitation is open to all !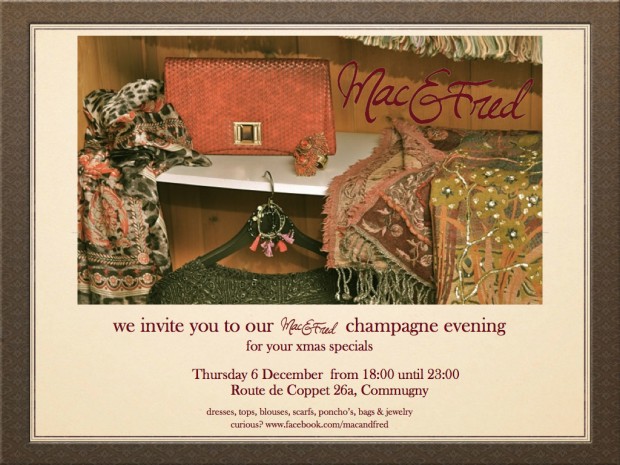 Mac & Fred will be presenting their collection, which includes cashmere and pashmina beaded scarfs, ponchos by Manos del Uruguay, blouses by Exetera from Paris, bags, jewelry, dresses and decorations by Spice Your Life in Bassins.
The address is:
Mac & Fred Champagne Evening – Thursday 6th December 6pm-11pm
Route de Coppet 26a
Commugny (VD)
Find more info about Mac & Fred on their Facebook page or website www.macandfred.ch, going live in January 2013.