Tucked away in a quiet street in the heart of Geneva's Les Grottes neighbourhood, Au Coeur des Grottes is a beacon of hope for many women who have suffered abuse or find themselves in difficult situations. Some of them are alone, some have young babies or children but they all share a need for security and protection that this warm & welcoming women's shelter can provide them with.
The valuable work they do is explained clearly on their website:
Thirty women and from fifteen to twenty-five children are residing daily at the shelter: women in difficult situations searching for security, mothers and children in need of protection, unsettled young girls faced with the unexpected difficulties of their opening lives, exploited or sexually abused foreign girls isolated by their ignorance of our country's language and customs, Swiss women returning from abroad, young students, victims of domestic violence, of human trade and slavery, of forced marriage or facing the risk of a crime of honor, pregnant women without any support… Violence, exploitation, victimization, trade of human beings, despair, contempt, loss of bearings… (© 2013 Au Cœur des Grottes)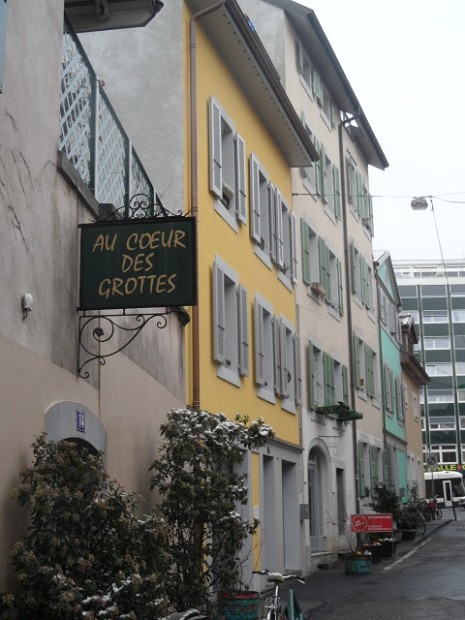 There are many ways in which you can support Au Coeur des Grottes, from giving donations to supporting their boutique-brocante Aux Trésors Retrouvés in Geneva (Rue de Zurich 40).
I recently paid a visit to the shelter to donate my pregnancy and baby clothes, baby equipment, shoes, toys and teddies and was deeply moved by the warmth, coziness and tranquillity that radiated from its lovingly kept rooms.
I'd held onto many of my children's keepsakes because it was too hard to let go of all the happy memories, but I felt my heart fill with joy at the thought that they would be useful to other mums & babies who were going through some tough times.
If you'd like to support Au Coeur des Grottes, visit their official website for full details on their ethos and daily work. Your heart & theirs will thank you!
Au Coeur des Grottes Women's Shelter
Rue de l'Industrie 14
1201 Genève, Suisse.
T : +41 (0)22 338 24 80
You can also support the shelter's second-hand boutique & brocante:
Rue de Zurich 40
1201 Genève, Suisse
T : +41 (0)22 731 46 09
Open 10am to 6.30pm Tuesday to Friday & 12pm to 5pm on Saturday.