Pauline is a Swiss mum-of-three and the freelance illustrator behind the enourmously funny Lavipo, a Swiss blog about motherhood and other adventures that always leaves me in stitches!
You might recognize yourself (I do!) in one of those IKEA-rages, monumentally bad-hair mornings or kids' meltdowns she portrays so vividly – so if you'd like to find out more about Pauline scroll down a little to read the interview she's kindly agreed to give us.
And yes, she's also shared these great illustrations with us, thank you Lavipo!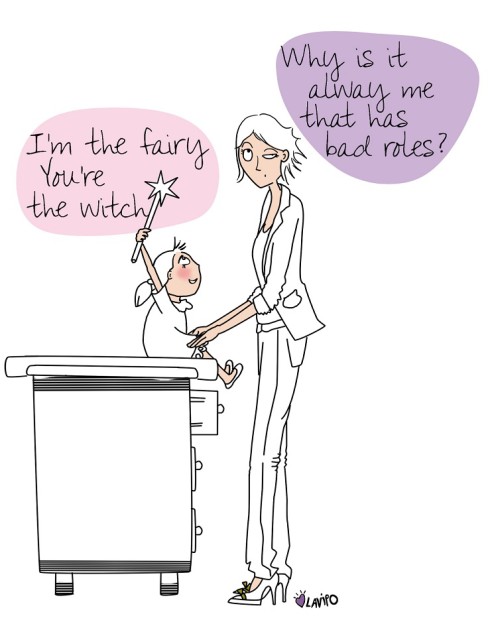 My family and I
Lavipo is not my real name but the shortening of my surname and first name. I never really knew what I wanted to do when I was young: I spent much of my time drawing and painting and I studied Fine Arts in Geneva. After my graduation I started teaching.
Today, I live in Genthod doing a job that I love: being a mum to three kids aged 10, 8 and 3 years old. I've always been fascinated by illustrations and drawing, and now I also work freelance for magazines, websites and newspapers. You might have seen my work published on Loisirs.ch, Top Santé magazine and on the Dressingbook.ch website.
The story of my blog
In April, 2010 I decided to collect my drawings in a blog, whic for me is a space of creativity, sharing and pleasure.
I usually post illustrations that are about the funny small concerns and big enjoyments that all modern mums face. In fact, I think I tell my own life in these drawings! The characters are inspired by my own life, but I also tell a lot of anecdotes about friends and family.
My favorite post
I believe that it's the one here below called«Education». For me it's so true – it's just the way I act when I'm overwhelmed, just before a nervous breakdown !
Who inspires me
My family and my friends without a doubt. The rest comes naturally. Walking, massages, eating sandwiches with cenovis and drinking good wine are also great to kick start my creativity!
The illustrators I find most inspiring are Joann Sfar, Soledad Bravi, Camille Jourdy,Margaux Motin, Penelope Bagieu, Tom Tirabosco and Zep.
Why I love Geneva
Geneva, in my opinion, is a small "big city". Small in terms of dimensions and big because of her international population. Geneva is my life, with its lake and old town: I like walking around the city – particulary in Carouge with its squares and small boutiques.
Secret tips from a Geneva mum
I like places where kids are welcome – especially if they have a playarea so I can relax and enjoy a  pleasant moment with my friends and children.
There is a nice café in Carouge called «Wolfisberg» that I highly recommend. It's a vast tea lounge with space for kids and a lovely terrasse.
When winter is over and the nice weather begins, we love to have brunch as a family in a lovely place called «Pyramus», the restaurant of the Jardin botanique in Geneva.
Last but not least, my kids love pizza so we often go to Luigia, a trendy Italian pizzeria and very child-friendly!