A girl will always love fashion, even when most of her wardrobe is covered in dried-up Play-doh and finger paint.
In my case, most outfit ideas and trends take place in my head rather than in the real world, as I grab my usual jeans, battered old tops and dash out the door for the boys' school-run.
But I shall be making amends and find out more about contemporary Swiss fashion at the Showroom Edelweiss 2012, organized by Swiss fashion magazine Edelweiss from the 12th to the 14th of October 2012 at the Tiffany Hotel in Geneva.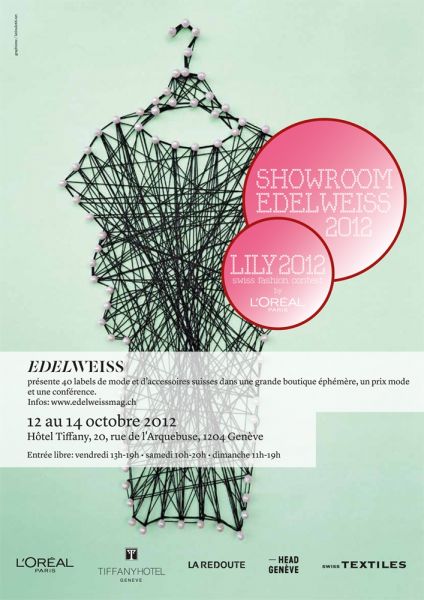 The programme of this 3-day event sounds really exciting: the Hotel Tiffany will be transformed into a showroom & temporary store for 40 up-and-coming fashion, accessories and jewellery designers from Switzerland who will be showcasing their creations and compete to win the Lily Swiss Fashion Contest.
There will be well-deserved pampering too, with free make-up and coiffure sessions offered by studio Make-Up L'Oréal Paris and a fashion conference organised in conjunction with Geneva's HEAD (Haute Ecole d'Art et de Design). Mummy makeover here I come !
Entry to the Showroom Edelweiss 2012 is free and opening times will be as follows:
Friday 12th October 2012: 1pm-7pm
Saturday 13th October 2012: 10am-8pm
Sunday 14th October 2012: 11am-7pm
Click here for a little taster (I'll have the leaf-print jacket, pleeeeeeezzzzz !).
Finally, if you'd like to find out more about the event, take a look at Soraya Bakhtiar's fab fashion blog, as well.
The 23-year-old Swiss-born fashion journalist and blogger grew up in Geneva with her Iranian-Egyptian family, so she's definitely the best person to disclose the joys of Swiss fashion.
Here's a reminder of some more exciting fashion events taking place in Geneva this week, make sure you click on the following links for more info: