We're back with another "Tried & Tested" post, where we give you the low-down on specific services and products suitable for your little ones.
For this post our star blogger Michelle Levesley, a British mum-of-three & English teacher living in France, has tested a selection of organic, gluten-free baby food pouches from Goodness Gracious Foods with no added salt, sugar or preservatives. Here's what she had to say…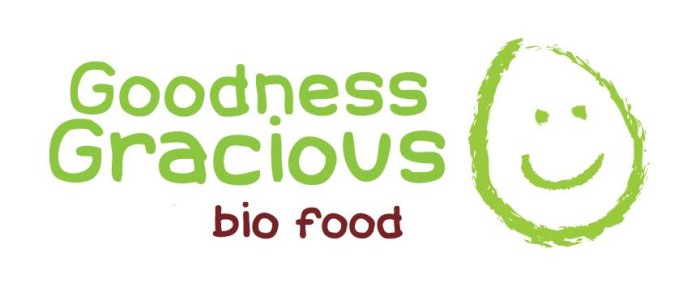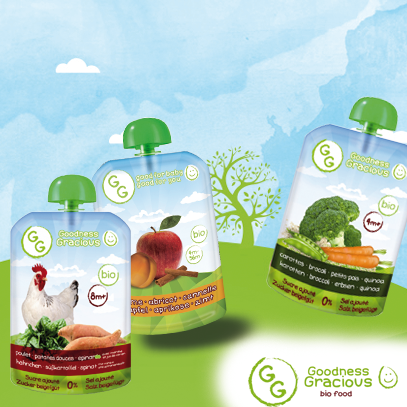 Michelle's report:
This week my three children turned into an eager tasting panel for some delicious goodies from Goodness Gracious Foods. The verdict was a unanimous "delicious, can we have some more?", so let me tell you about the range we tried and the local lady who had the fabulous idea to make these.
I remember that when my first child was starting solids, I had to search hard to find the lovely, travel-friendly squeezy pouches of puree that sold everywhere in the UK.
Goodness Gracious Foods is run by Katherine Gubbins and the recipes used are based on Ayurvedic principles that she learnt through her yoga practice. The pouches are not only convenient but also nutritionally balanced and contain nothing artificial or any gluten.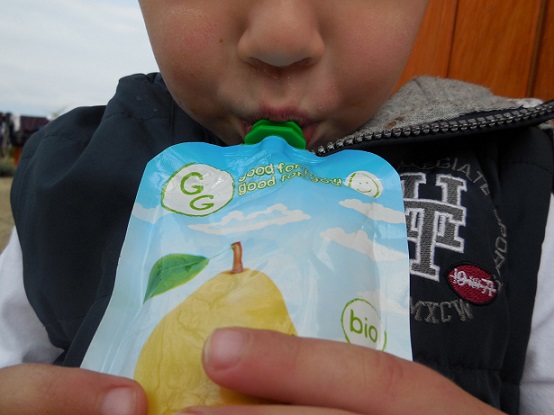 We tried the whole fruit range: apple, pear, apple with apricot & cinnamon and prune, banana & quinoa compotes. I have to say I love the idea of cinnamon in the fruit, just adding a touch of something more interesting for their taste buds.
The use of quinoa in the prune and banana compote makes it more filling. I used it when Number Three, who is nearly two, got hungry on the school run. I should point out that my other two are older and still like compotes. I think is is lovely to be able to give them a healthy snack that I can transport easily, rather than always resorting to biscuits!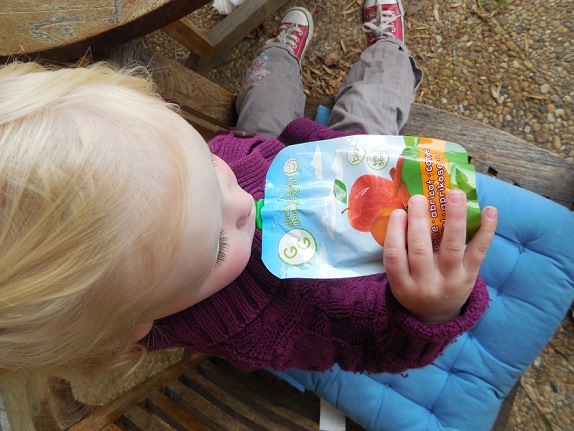 My friend's baby tested the chicken with sweet potato and spinach and also the carrot with broccoli , peas and quinoa. Katherine suggests that you could heat this and add some olive oil but we did not feel the puree needed it. The food smelt and looked really nice (as often baby food has that uniform unpleasant off -orange colour).
My friend is French and was quite surprised that a pouch of baby food could be so good. She was also excited at the idea that the baby could feed himself if needed by squeezing the pouch.
Goodness Gracious Foods are stocked by many organic shops around Geneva and France or can be contacted via their website. It is great to see a local mumpreneur succeed with such a delicious idea!

Michelle Levesley has been living in France for seven years. She and her husband arrived from London as a newlywed couple and now have three children aged between five and a half and seventeen months. As Michelle says: "They make my life so wonderful but we cause chaos everywhere we go really. If nothing else, we keep the locals amused. We seem to be on a constant mission to find new things to do over this side of the lake. I used to teach English but I am on a break while I work out how to make a job and a family fit together nicely. I think an au pair, regular spa days and wine would help."
A big thank you to Katherine Gubbins at Goodness Gracious Foods for supplying the free samples of baby food and fruit purées for Michelle's test.