Do you remember last summer's "Jouez, je suis à vous!" public art event in Geneva, where a number of pianos located throughout the city were available for everyone to enjoy ?
If you thought that was a good idea, be prepared for something even better: Geneva's Association Tako – in collaboration with the Ville de Genève – is launching on the 20th of December 2012 "Boîtes d'échange entre voisins" a community art project designed to invite the public to engage and share the things they love the most with their neighbours.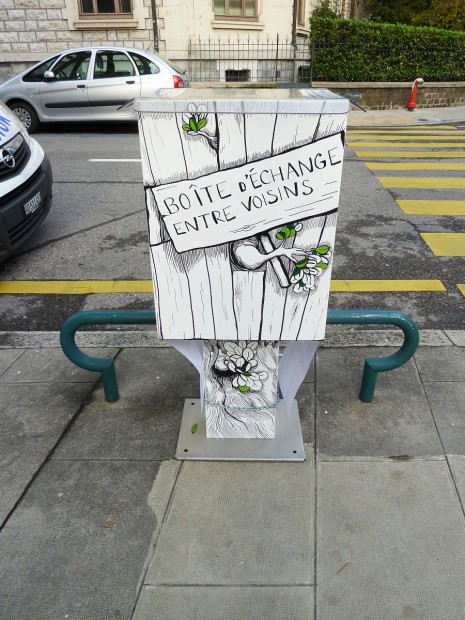 The concept of this project is very simple: "Take something from your neighbour, leave something for your neighbour" and – by following these basic instructions – open yourself up to discovering more about those who live in your neighbourhood.
From the 20th of December 2012 until the end of August 2013, ten «Boîtes d'échange entre voisins» will be placed in the following neighbourhoods:
Grottes, Rue du Midi
Servette, Rue Lamartine
St-Jean, Rue Confessions (angle Rue Beuret)
Délices, Angle Rue Amiel – Rue des Délices
Pâquis, Rue du Môle
Pâquis, rue Ancien-Port 10-12
Eaux-Vives, Rue Cordiers (angle rue Vollandes)
Plainpalais, Rue Jean-Violette (no 28-30)
Plainpalais, Rue Carl-Vogt (angle rue Patru)
Jonction, Rue du Vélodrome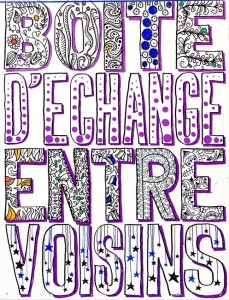 «Boîtes d'échange entre voisins» also creates an element of surprise and expectation: what will I find there ? What has been taken and how will it be used and loved by its new owners ? Who will be stopping by next ? What will they leave in the box ?
An "exchange box" can also be the catalyst for more meaningful interactions with our neighbours and all the people we frequently meet in our area but never exchange a word with.
What social and human interactions will be triggered by a gesture as simple as leaving your old books, toys or CDs in a public box on your street ?
Is it at all possible to champion a situation where people will be able to take part in an exchange that is completely gratuitous and spontaneous, or without even knowing whom their gift might benefit ?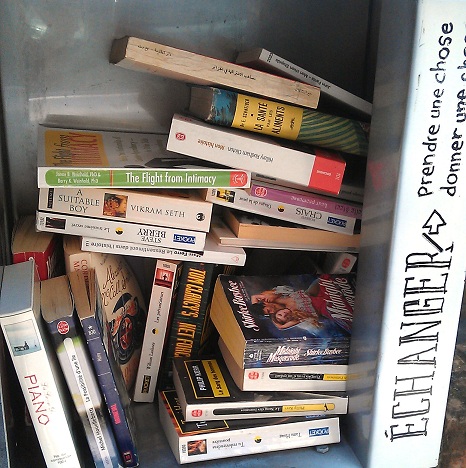 The ten «boîtes d'échange entre voisins» have been decorated by local Genevan artists and each of them has already taken on its own distinctive image and – in a way – original identity.
If you'd like to see what these boxes look like, visit the official facebook page for the "Boîtes d'échange entre voisins" art project, or see their official website at www.tako.ch – and remember to drop something into your local exchange box or pick something up…you never know what this might lead to !
Cover photo & design © Maria Jaramillo — at Mottattom