A fantastic new exhibition will be opening at the Vallée de la Jeunesse in Lausanne on the 11th of February 2014: "Ô Cézanne", a fascinating insight into the work of the much-loved post impressionist French painter, perfect for children aged 5 to 11.
Who doesn't love Paul Cézanne's intense colours and idyllic landscapes? He's certainly one of the iconic 19th century painters your little ones can easily relate to, and this great exhibition has been devised with a very young audience in mind.
From the 11th of February to the 29th of June 2014 you & your budding little artists will be able to discover Cézanne's world in a fun & interactive way, walking amongst his easels & the apples that feature so prominently in his still lives. After visiting the exhibition, the children can take part in an art workshop and enjoy a little snack too.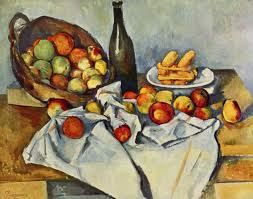 The total duration of the visit, plus workshop and snack is approx. 1 hour and a half; tickets cost 4CHF for children aged 5+ and 6CHF for adults. Best of all, the exhibition is open on Sundays from 10am to 6pm.
If you'd like to marvel at the beautiful work of Cézanne and share this moment with your little buttons, then this family-friendly art exhibition is the perfect opportunity!
"Ô Cézanne" – Child-friendly art exhibiton from the 11th of February to the 29th of June 2014 
Vallée de la Jeunesse 1
Lausanne
Opening times (find more info here):
Wednesday & Saturday from 2pm to 6pm.
Sunday from 10am to 6pm.
School holidays, open Tuesday to Saturday & 30th of May from 2pm to 6pm.